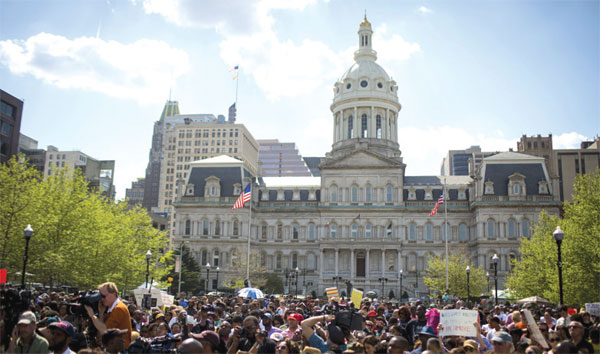 Demonstrators rally at city hall in Baltimore, Maryland, May 3. [Photo/Agencies]
WASHINGTON - Six police officers have been indicted in the death of Freddie Gray, Baltimore City State Attorney Marilyn Mosby told a news conference Thursday.
They will be arraigned on July 2, Mosby said. Earlier this month, Mosby had filed charges against the six officers in Gray's case.
The charges differed slightly from those filed by Mosby before. Some of the original charges, including false imprisonment, were dropped, and new charges, including reckless endangerment, were added.
"Additional information was discovered, and as is often the case during an ongoing investigation charges can and should be revised based on the evidence," Mosby said.
Mosby has also said that Gray's neck was broken because he was injured while being handcuffed, shackled and placed head-first into a police van. She said that his pleas for medical attention were ignored.
On Wednesday, a new video posted online showed the violent arrest of Gray. Though in low quality, yelling can be heard in the video as several officers can be seen standing by Gray behind a white van. The video reportedly shows officers put Gray into handcuffs and leg shackles before sliding him head first on his stomach into the van.
Gray, 25, an African-American man, died on April 19 after suffering injuries believed to have been sustained during or after his arrest in the previous week by police.
Gray's death has provoked weeks-long protests in Baltimore, Maryland's largest city, demanding "justice" for African Americans. Baltimore has also witnessed a five-day curfew after protests turn violent last month. Dozens of buildings and vehicles were burned, some 20 police officers injured and more than 200 people arrested in the riots.
The Attorney General Loretta Lynch announced last month that the Justice Department would launch a federal probe into Gray's death. Lynch has also vowed to help the city in police reform.