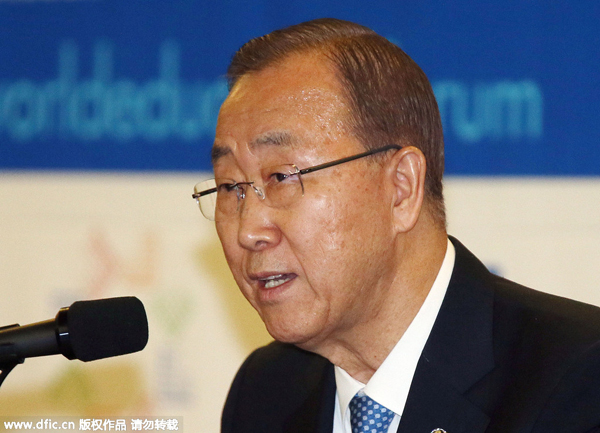 Ban Ki-moon speaks at the World Education Forum in Incheon, the Republic of Korea (ROK), May 19. 2015. [Photo/IC]
SEOUL - The Democratic People's Republic of Korea (DPRK) has canceled its earlier approval of UN Secretary General Ban Ki-moon's Thursday visit to the Kaesong Industrial Complex.
Ban was quoted by Yonhap News Agency as saying in a speech for a forum in Seoul that Pyongyang "suddenly" notified him of the cancellation through diplomatic channels earlier in the morning without any explanations.
He said it was very regrettable, noting that he will continue efforts to establish peace on the Korean Peninsula in cooperation with the international community.
The UN chief arrived in South Korea Monday to attend the World Education Forum (WEF) that kicked off Tuesday in Incheon, the western port city of the country.
Ban told a press conference in Incheon that he will visit the inter-Korean industrial zone in Kaesong on May 21 after consulting with both South Korea and the DPRK.
The Kaesong industrial zone, launched in late 2004 and jointly managed by the two sides, has been seen as one of the key symbols of inter-Korean economic cooperation. Some 120 South Korean companies hiring 53,000 DPRK workers are operating in the park.