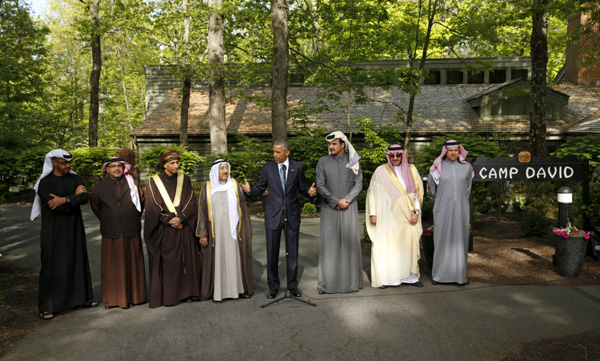 US President Barack Obama speaks while hosting the six-nation Gulf Cooperation Council (GCC) at Camp David in Maryland May 14, 2015. [Photo/Agencies]
WASHINGTON - The United States would consider using military force to defend the Gulf nations in the event of an external threat to their territorial integrity, US President Barack Obama said Thursday.
Reaffirming what he called an "iron-clad commitment" to the security of the Gulf nations, Obama said the United States is prepared to work jointly with them to "deter and confront" an external threat to any Gulf state's territorial integrity that is inconsistent with the United Nations Charter.
In the event of such aggression, the United States stands ready to work with Gulf nations to "urgently determine what actions may be appropriate, using the means at our collective disposal, including the potential use of military force" for the defense of the Gulf nations, Obama said at a press conference after a summit with Gulf leaders at Camp David.
Obama said the United States will increase security cooperation with Gulf nations to meet the full range of threats, particularly terrorism, and help them improve their own capacity to defend themselves.
The summit, which brings together leaders of the Gulf Cooperation Council (GCC) nations including Saudi Arabia, Bahrain, Oman, Kuwait, the United Arab Emirates and Qatar, came amid concerns of these nations about what they view as Iran's increasing influence in the region.
World powers and Iran reached a framework agreement on Tehran's nuclear programs in March and are in negotiations aimed at inking a comprehensive deal by the end of June.
At the press conference, Obama said the Gulf leaders agreed that a comprehensive and verifiable solution to Iran's nuclear issue is in the interest of their nations.
While noting that the region faces a range of threats including Iran's "destabilizing activities," Obama emphasized that the purpose of US-Gulf security cooperation is not to "perpetuate any long-term confrontation with Iran or even to marginalize Iran."
"We welcome an Iran that plays a responsible role in the region," Obama said, calling on Iran to take concrete steps to build trust and resolve differences with its neighbors.
The summit is overshadowed by the absence of several key players in the region, including Saudi Arabia's King Salman. The king decided to skip the summit at the eleventh hour and send Crown Prince Mohammed bin Nayef and Deputy Crown Prince Mohammed bin Salman instead.
The White House said Obama and Gulf leaders agreed to meet again in a similar high-level format next year.