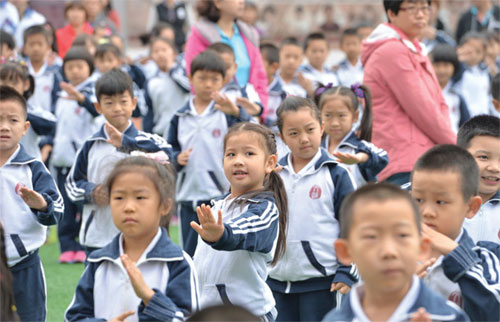 Pupils at Beijing Wenhui Middle School on Monday practice one of three anti-smoking gestures recognized citywide to convey that smoking is not acceptable in a given area. Beijing will roll out strict anti-smoking regulations on June 1. [Provided to China Daily]
China recently more than doubled its tax on cigarettes, but still isn't taxing smokers as much as the World Health Organization (WHO) recommends.
On May 8, the Ministry of Finance announced an increase in the consumption tax on wholesale cigarettes from 5 percent to 11 percent, effective May 10.
"Increasing tobacco taxes and prices is the single most effective way of reducing tobacco consumption in the short term," said Bernhard Schwartlnder, the WHO representative in China. "The WHO is therefore very pleased to see tobacco taxes increased inChina, but it is crucial that the increase be passed on to retail prices."
It's the first increase since 2009, and it raises the tax portion of the retail price of a pack of cigarettes in China to about 50 percent.
The WHO recommends a tax of at least 70 percent of the retail price. In some European nations, taxes are 80 percent of the price.
In the US, according to tobacco giant Philip Morris, federal, state, local and sales taxes average about 57 percent of retail. The federal government imposes a tax of $1.01 per pack, and then states, counties and cities can add their own taxes.
The most expensive US pack of cigarettes can be found in Chicago, where city ($1.18), county ($3) and state ($1.98) taxes total $6.16. New York City cigarettes are the second-most costly, with a US-high state tax of $4.35 and a city excise tax of $1.50. A pack of cigarettes in those two cities can push the $15 level.
In Missouri, the state with the lowest cigarette tax (17 cents), a pack can be had for $5.25.
The owner of a tobacco store in Beijing told China Daily that cigarette prices had increased about 10 percent over the last weekend. A popular brand that had cost 25 yuan ($4) is now 27 yuan, and some packs still sell for under $1.
From 2000 to 2012, cigarette prices rose 3 percent in China, said Professor Emeritus Hu Teh-wei at the University of California, Berkeley. With rising incomes, cigarettes in China - home to 300 million smokers - "are 70 percent more affordable than before", Hu said at an event hosted by the WHO and the World Bank on Monday in Beijing.
Hu said that food prices have doubled in the same period, and liquor prices have risen 140 percent.
In 2009, China's tobacco industry responded to a higher tax by increasing subsidies to cigarette manufacturers to offset the tax's impact, and the retail price hardly changed.
"If China really wants to curb the number of smokers and reduce cigarette sales, the tax on cigarettes has to be raised much higher, and the tobacco industry should refrain from raising subsidies, or otherwise the effect will be muted," said Yang Jie, deputy director of the Tobacco Control Office of the Chinese Center for Disease Control and Prevention.
The tobacco industry contributed more than 900 billion yuan ($144.9 billion) to the government last year. The recent tax increase is expected to bring in an extra 87.6 billion yuan, according to Zhu Weiqun, an economics professor at the Shanghai University of Finance and Economics.
Tobacco accounts for anywhere from 7 percent to 10 percent of the government's tax revenue.
Still, the anti-smoking effort in China is making steady, deliberate strides. Beijing municipality is bolstering its battle against indoor smoking.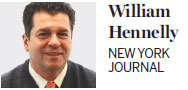 Starting June 1, the fine for smoking in indoor public venues will be as high as 200 yuan, 20 times more than that imposed under Beijing's initial smoking restrictions in 2010. The increased fines are a response to many smokers simply ignoring the restrictions.
Netizens took to Sina Weibo in China to chat about the new tax.
Ma Guangyuan, an economist, wrote that "real estate does not live up to expectations, saving China once again by tobacco".
"The method to help smokers quit is to develop harmless cigarettes, or add 70 yuan per pack!" wrote Qimaomeixiaogu.
"In the short term, since the habit of smoking cannot be changed overnight, the demand for cigarettes would not sharply drop even if the price rises due to extra tax," posted Jade Unicorn-Chen. "Therefore, the sole result of such a proposal is to increase the government's tax revenue."
"Increasing tobacco tax to promote smokers quitting?" wrote Waterside Xiaoxiao. "The idea is just like increasing the subway ticket price to reduce the pressure of population in Beijing."
"China, which has an obviously much lower tobacco tax than most countries in the world, has the world's largest population of smokers," wrote the Biggest E at Congress.
"It does not matter how much the government has collected tax, yet it is crucial, and also what a qualified government should do, use a certain percentage of the tax revenue and give it back to its taxpayers in the form of social welfare."
Contact the writer at williamhennelly@ chinadailyusa.com.
Hong Xiao in New York; Wang Xiaodong and Zheng Yangpeng in Beijing; and Reuters contributed to this story.