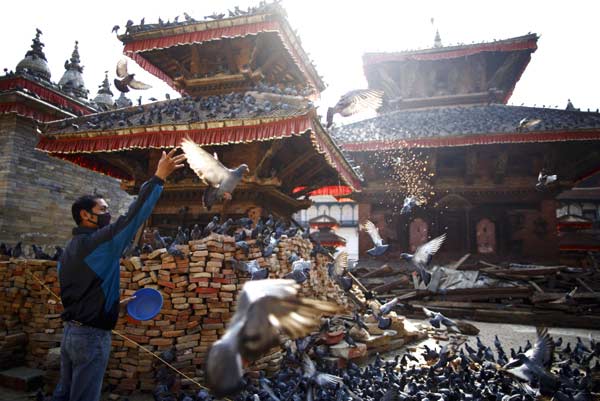 A man feeds pigeons near the debris of a collapsed temple after the earthquake in Kathmandu May 14, 2015. [Photo/Agencies]
KATHMANDU -- The death toll in a fresh powerful quake that hit Nepal on Tuesday has climbed to 96 and around 2563 others injured, Nepal Police said in its latest update on Thursday.
The 7.5- magnitude quake with an epicenter at Dolakha district, some 130 km east of the capital, suffered the maximum number of human loss as well as infrastructures damage.
Most of the cracked buildings, including houses, government offices and schools, have been badly destroyed by the latest quake.
More than 8,000 people were killed in a massive 7.9-magnitude quake on April 25 and some 17,000 were injured.
Nepal Army, Nepal Police and Armed Police Force along with rescue teams from different countries have been deployed for the rescue operation in such worst-hit districts as Kavre, Sindhupalchowk, Rasuwa and Nuwakot among others.
However, landslides triggered by the earthquake have obstructed roads and relief distribution in parts of the Himalayan country.