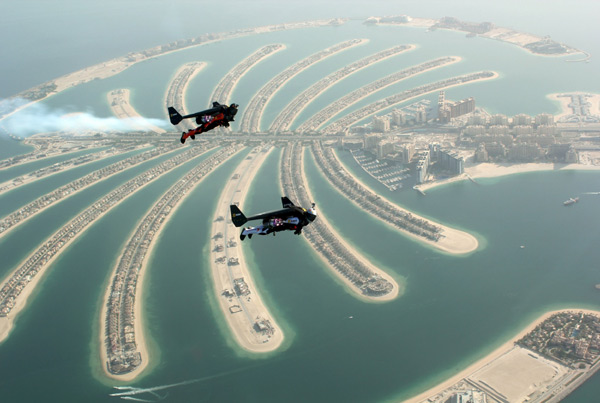 An aerial view taken from a sea plane shows Swiss pilot and original Jetman Yves Rossy (front) and Vince Reffett flying over Dubai's Palm Island, Dubai, United Arab Emirates, May 12, 2015. [Photo/Agencies]
DUBAI - Swiss pilot Yves Rossy, also known as Jetman, along with renowned French skydiver Vince Reffet on Tuesday demonstrated their acrobatics skills in the skies of Dubai.
With jet-powered wings, the two adventurers dropped off a helicopter over the Dubai Marina, the man-made island Palm Jumeirah.
Media professionals from all over the world were invited to film and shoot the adventure.
"We have plans to go to China. We do not know when and where, but China has a number of beautiful annual airshows which could be platforms for us," Rossy told Xinhua.
Rossy overflew the Swiss Alps with his jet-engine equipped wings for the first time in 2008.
He made similar flights over the English Channel, the Grand Canyon in the United States and other iconic locations.
Reffet became Rossy's official partner after five years of training. They are based in Dubai.
Rossy is the first man in history to fly a using 55 kg suit strapped to his back, and has made it possible to fly up to a height of 4,000 meters for 10 minutes over Dubai's skyline with a speed of 260 km per hour.