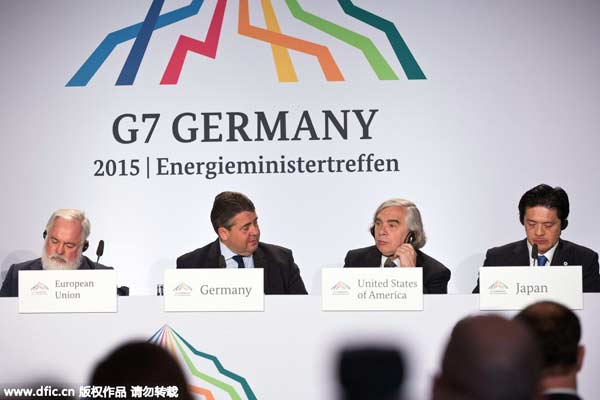 EU Commissioner for Climate Protection and Energy, Miguel Arias Canete (L-R), German Economy and Energy Minister Sigmar Gabriel, US Secretary of Energy Ernest Moniz, and Japanese Vice Minister of Economics, Trade and Industry Shigeki Iwai, attend the closing press conference after a meeting of G7 Energy Ministers in Hamburg, Germany, May 12, 2015. [Photo/IC]
BERLIN -- Energy ministers of the Group of Seven (G7) wrapped up their meeting Tuesday with a joint communique.
The ministers of Canada, France, Germany, Italy, Japan, Britain and the United States as well as the European Commissioner for Climate Action and Energy, met in the northern German city of Hamburg on May 11 and 12 to discuss progress since their last meeting in Rome in strengthening collective energy security and to decide upon further initiatives to effectively improve sustainable energy security of G7 countries and beyond.
"Cyber threats to energy delivery systems are becoming increasingly complex and sophisticated," said the communique in terms of energy security.
As to the energy supply in Ukraine, the ministers reaffirmed their support for Ukraine in reforming its energy policy "towards economically sound, transparent, secure and sustainable energy system," welcoming in this context all efforts to support the country in tackling challenges faced by its energy system.
They also welcomed efforts of the trilateral talks of EU, Ukraine and Russia to reach a sustainable agreement for gas deliveries, according to the communique.
In addition, G7 energy ministers have agreed on joint actions in areas including energy efficiency as well as energy resources and innovative energy technologies.