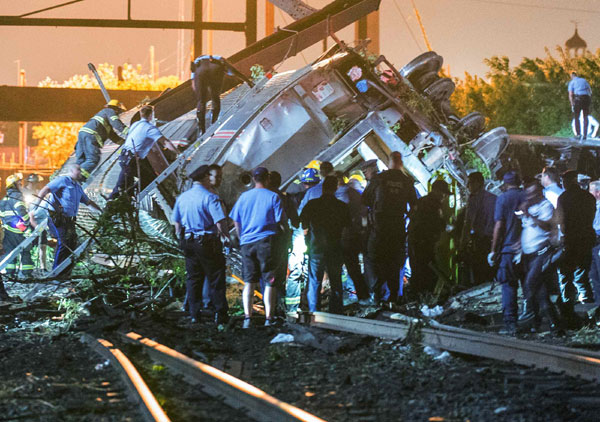 Emergency responders search for passengers following an Amtrak train derailment in the Frankfort section of Philadelphia, Pennsylvania, May 12, 2015.[Photo/Agencies]
PHILADELPHIA - An Amtrak passenger train headed to New York City derailed and tipped over in Philadelphia on Tuesday night, tearing the cars apart and killing at least five people. Dozens of passengers were injured, and some climbed out of windows to get away.
Mayor Michael Nutter, who confirmed the deaths, said the scene was horrific.
"It is an absolute disastrous mess," he said. "I've never seen anything like this in my life."
He said there were train cars that were "completely overturned, on their side, ripped apart."
"It is a devastating scene down there," he said. "We walked the entire length of the train area, and the engine completely separated from the rest of the train, and one of the cars is perpendicular to the rest of the cars. It's unbelievable."
Firefighters said dozens of people were hospitalized and six were critically injured.
Train 188, a Northeast Regional, had left Washington, D.C. The front of the train was going into a turn when it started to shake before coming to a sudden stop.
The cause of the derailment was unknown, but Amtrak said it was investigating. The area where the derailment occurred is known as Frankford Junction and has a big curve.
Police swarming around the crash site, in Port Richmond, a working-class area, told people to get back, away from the train. They pleaded with curious onlookers: "Do NOT go to scene of derailment. Please allow 1st responders room to work."