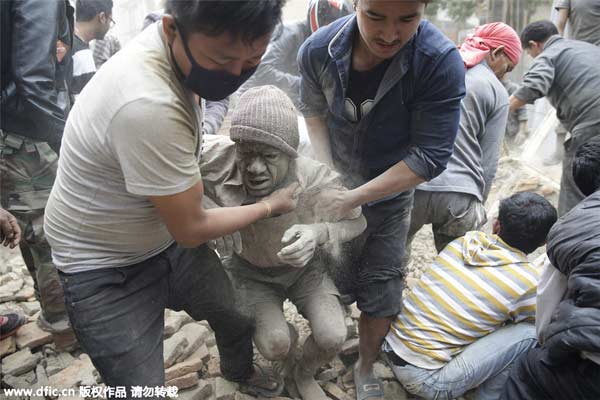 People free a man from the rubble of a destroyed building after an earthquake in Kathmandu, Nepal, April 25, 2015. [Photo/IC]
KATHMANDU - As earthquake death toll climbed to over 8,000 in Nepal, authorities and experts estimate that more than 400 people have sustained spinal cord injures.
As of Monday, 8,046 people have been confirmed killed and 17,866 others injured in the 7.9-magnitude quake that jolted the Himalayan country on April 25, according to the latest statistics of Nepal's Ministry of Health. Meanwhile, over 530,000 government and public houses have been partially or fully destroyed.
Of the injured, over 400 people have spinal cord injuries, and over 1,000 people need major surgery, including for injuries to the spinal cord, head, chest, hands and legs, said the Ministry of Health.
"Government is in the process of collecting data on the types and seriousness of all kinds of injuries and arranging treatment for the injured on the basis of seriousness, and the spinal injuries will be given special care," said Dr. Guna Raj Lohani, spokesperson of the ministry.
Spinal cord injuries will lead to serious consequences if not treated properly, field experts said, adding that untrained rescuers, as well as a haste to rescue as many as possible, can add to the complications.
For quake victims with spinal cord injuries, if they were pulled out of the rubble, dragged and carried to the hospital with insufficient consideration for spinal immobilization, their conditions could become much worse, field experts warned.
Khagaraj Adhikari, Nepal's minister of health and population has told Xinhua that the death toll of the country's April 25 quake may not exceed 10,000, as some has predicted.
Adhikari said the Nepalese government will forward a list of requirements for medical assistance to China as the quake-hit country is in the process of resuming the health facilities and institutions in proper place.