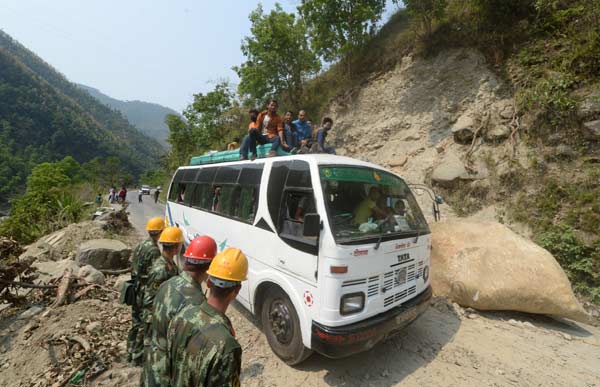 Chinese armed police repair a road linkling Nepal with China in Nepal on May 7, 2015. [Photo/Xinhua]
BARABISE - The road-repair and rescue detachment of China's armed police forces have restored a cross-border highway linkling earthquake-hit Nepal with China, Chinese and Nepali officers said on Friday.
Officers of the Chinese armed police forces told Xinhua that some 200 Chinese armed police personnel have jointed the reparation efforts since May 3.
The Chinese team has repaired 31 km of the severely damaged parts of the 114-km Araniko Highway, which connects with the China National Highway 318 to Lhasa, the capital of China's Tibet autonomous region.
Traffic of the highway has been halted as the road was damaged at many locations since the April 25 earthquake, which has left more than 8,400 people dead in Nepal.
Extremely steep slopes on the sides of the road and the potential landslides have been posing threats to the Chinese team.
The team is expected to be stationed on the highway for more days on a maintenance mission.