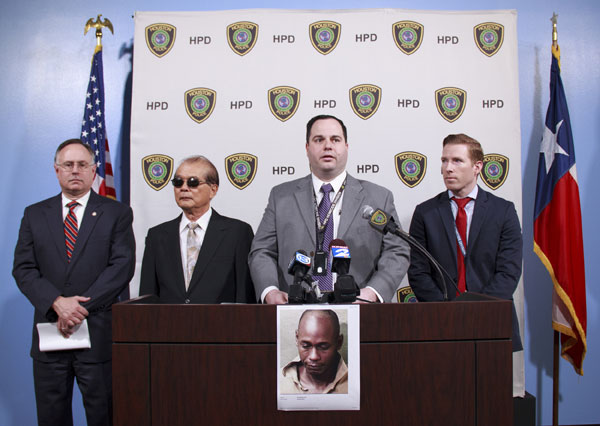 From left: Houston City Council member Mike Laster; Chuanjin Teng, husband of slaying victim Su-Jung Teng; Houston Police Detective Robert Klementich; and Detective Todd Colbert appear at a press conference in Houston on Tuesday announcing a capital murder charge in the case against suspect Cavalas Prater, seen in photo on front of the lectern. May Zhou / China Daily.
A 35-year-old man has been charged with capital murder in the fatal stabbing of an elderly resident of southwest Houston's Chinatown section, city police announced on Tuesday.
Cavalas Prater has been charged in the slaying of Su-Jung Teng, 79, who was gardening around her home when she was attacked by the suspect in her garage in the 7800 block of Hiawatha around 5:30 pm on April 29, the Houston Police Department (HPD) said.
She was then dragged to her house and stabbed with a pair of scissors and choked inside a bathroom despite her husband's attempts to beat the suspect with various items in a desperate attempt to save her, HPD Homicide Division Detective Robert Klementich said.
Teng's husband, Chuanjin Teng, called 911, but Prater fled the scene by the time the police had arrived, police said.
Klementich said that Prater had been arrested on May 1 on a domestic violence complaint. He broke into his mother's apartment and was trying to strangle her, the detective said. When Prater's mother's roommate heard the commotion and came to her aid, Prater fled the apartment, Klementich said.
He was subsequently arrested by a patrol police officer, who was assisted by the roommate, said Klementich. "Then the officer noticed something and made a connection to the murder case," he said. "He took the initiative and immediately notified the Homicide Division."
According to Klementich, Prater was wearing a long-sleeved T-shirt matching the description provided by the victim's husband and by neighbors who had witnessed him fleeing Teng's house, when he was arrested on May 1, two days after the woman's slaying.
A subsequent investigation found dried blood on the sleeves of Prater's shirt and a knife on him, Klementich said.
He said that police records showed Prater has an extensive criminal record in Texas as well as in other four states. Prater also has had psychiatric treatment in two different local hospitals, Klementich said.
Klementich described Prater as "unresponsive and non-communicative" since his arrest. "This appears to be a random violent act by a crazy and demented person," the officer said.
The victim's husband was present at the HPD announcement but made a statement through Klementich that he wanted privacy, and he declined to speak with the media.
Houston City Council member Mike Laster made a statement of condolence to Teng's family and praised the HPD for quickly arresting the suspect.
mayzhou@chinadailyusa.com