Bilateral exchanges across the board, plus relaxed immigration policies between the world's two largest economies, have generated enormous business opportunities for many industries. And aviation is certainly one of them.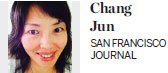 Dubbed "The Gateway to Asia", San Francisco is a hotly contested hub among major international airlines. Air carriers from China — including State-backed and deep-pocketed private firms — are diving into the fierce competition by upgrading their aircraft and services to woo travelers.
On May 1 at San Francisco International Airport (SFO), a reception was held to celebrate the arrival of Air China's inaugural Boeing 747-8 operating between Beijing and the Bay Area. The new aircraft, which is to replace a Boeing 777-300ER, is the first and only aircraft in Air China's fleet with a four-cabin configuration.
With the privilege of having China's National Flag painted on the fuselages of its fleet, Air China is making a bold move to outshine its international competitors in the US market by introducing the "bigger, more fuel-efficient and environmentally friendly" B 747-8.
Calling the upgrade a "vote of confidence", Air China's San Francisco general manger Zhao Litao said they are confident they'll meet the growing demand from international travelers between Beijing and San Francisco.
Today, China and the US are much closer than ever before, said Luo Linquan, consul general of Chinese Consulate General in San Francisco, who also attended the ceremony. Bilateral exchanges in trade, investment, culture, science and technology are booming, and each day more than 10,000 passengers travel across the ocean to China, so market potential is huge for Air China and all Chinese airlines.
Thanks to revisions in US immigration policy that took effect November 2014, Chinese citizens can now apply for 10-year tourist visas and the number of Chinese travelers to the US has soared. The US welcomed 2.24 million Chinese travelers last year and the number is expected to reach 3.1 million by 2019, making China the third-largest source of overseas travelers following Mexico and Canada, according to the US Department of Commerce.
Xia Xiang, economic and commercial counselor of the Chinese Consulate General in San Francisco, said China and the US enjoy close connections in all areas and local cooperation between the two sides is underway. "Last year, both sides launched 12 direct flights, which makes it a bridge between history and technology," he said.
In April, China's largest privately-owned carrier, Hainan Airlines, announced that it will start a new service linking Beijing and San Jose on June 15 using a Boeing 787 Dreamliner. A delighted San Jose Mayor Sam Liccardo called the news "a merit that was long meant to be" and assured his Chinese colleagues that his city would do whatever it could to make the flight "very, very successful".
Likewise, COO of SFO Ivar Satero praised Air China for its commitment to San Francisco, and vowed SFO would spend $5 billion over five years to improve infrastructure at SFO and add new features to accommodate new aircraft like the B 747-8. "Air China has been exceptional over the past three decades," Satero said.
Featuring 12 luxury suites in the Forbidden Pavilion (first class cabin), 54 fully-flat bed seats in the Capital Pavilion (business class), 66 premium economy seats and 233 in the economy cabin for a total of 365 seats, the B 747-8 is said to provide an "exceptional" flying experience, said Zhao.
In addition to its commercial operations, Air China also provides special flight services for China's senior government officials on state visits to other countries. Its 323 passenger routes reach 162 cities in 32 countries. It is also one of the top three most recognized Chinese brands in the US, according to a recent research study by Millward Brown.
Contact the writer at junechang@chinadailyusa.com.