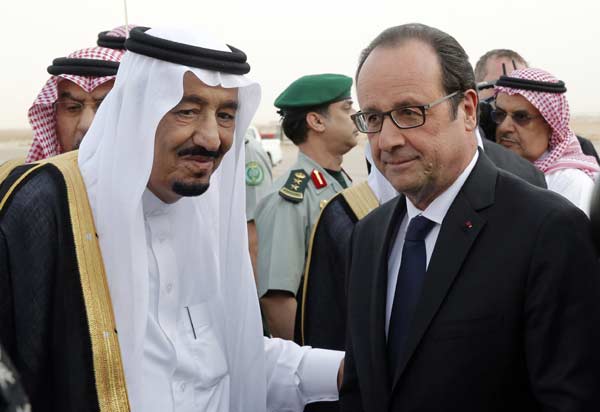 French President Francois Hollande, right, is greeted by Saudi Arabia's King Salman upon his arrival at Riyadh airport, Saudi Arabia, May 4, 2015. [Photo/Agencies]
RIYADH - France and Saudi Arabia believe that any future deal between Iran and six major powers must ensure not to destabilize the region further and threaten Iran's neighbours, the two countries said ahead of a summit in Riyadh on Tuesday.
Saudi Arabia invited French President Francois Hollande, whose country is deemed to have a tough stance in Iran nuclear negotiations, to Riyadh to discuss regional issues with Gulf Arab leaders who fear a rapprochement with Tehran could lead to further destabilisation in the region.
"France and Saudi Arabia confirmed the necessity to reach a robust, lasting, verifiable, undisputed and binding deal with Iran," French President Hollande and Saudi Arabia's King Salman said in a statement after meeting on Monday.
"This agreement must not destabilize the security and stability of the region nor threaten the security and stability of Iran's neighbours," the statement said.
Hollande met the new Saudi King for an hour after dinner at his personal palace. The two men specifically discussed Iran's role in Yemen and Syria, where they reiterated there was no future for Syrian President Bashar al-Assad.
Those talks will be widened to Gulf Cooperation Council leaders on Tuesday.
"They have a real fear that when sanctions are lifted Iran will be able to finance all its proxies across the region," said a senior French diplomat.
The visit to Riyadh, where Hollande also met Yemeni President Abd-Rabbu Mansour Hadi on Monday, comes after a period where Paris has been able to nurture new links with the region following similar analysis to Gulf Arab states on crises and a perceived disengagement from traditional ally the United States.
"They wanted us to come so they could say to the Americans, look we also have France: it's up to you not get distanced and to be here with us," said a second French diplomat.
US Secretary of State John Kerry changed his schedule at the last minute this week to travel to Riyadh on Wednesday as he looks to finalize plans for a summit at Camp David on May 13 between Gulf leaders and US President Barack Obama.
US officials say they are seeking the best deal with Iran and have cautioned that France's position privately is not as tough as it is publicly.
France's commercial success in the region was highlighted on Monday when Hollande signed a 6.3-billion-euro ($7 billion) deal in the Qatari capital Doha to sell French-made Rafale fighter jets. Paris is also in talks with the United Arab Emirates for some 60 jets.