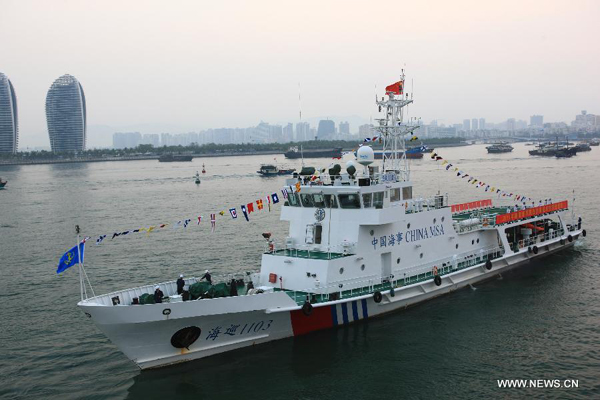 A patrol vessel leaves for a patrol mission from a port in Sanya, South China's Hainan province, April 21, 2015. The patrol vessel Haixun-21 and Haixun-1103 have set out for a 3-day patrol mission on the waters of Xisha Islands in South China Sea. [Photo/Xinhua]
BEIJING - China on Monday urged the Philippines to stop "malicious hyping and provocation" on territorial disputes in the South China Sea.
Foreign Ministry Spokeswoman Hua Chunying made the remarks while commenting media reports of the Philippine foreign ministry, which allegedly said China's construction on islands in the South China Sea after the signing of the Declaration on the Conduct of Parties in the South China Sea (DOC) in 2002 had violated the DOC.
The Philippine side also argued that it constructed airport on the Zhongye Dao before 2002.
Hua said the core reason of the two countries' disputes in the South China Sea was the Philippines' illegal occupation of some of China's islands since 1970s. The Philippine side conducted large-scale construction of military and civil facilities including airports, ports and barracks on those islands for many years.
According to Hua, the Philippines violated commitment, refused to drag away its stranded warship near the Ren'ai Reef and tried to consolidate it to seize the reef.
In 2013, the Philippines violated its commitment in the DOC and the consensus reached by the two sides by unilaterally filing an arbitration case, Hua said.
The Philippines declared to restart its illegal construction on the Zhongye Dao recently. It also hindered maritime cooperation under the framework of the DOC, disturb the situation in the South China Sea, and defame China in regional and international occasions, Hua said.
"It is the Philippines who violated the DOC," she said.
China does not recognize the so-called "status quo" that some Chinese islands in the South China Sea were illegally occupied by the Philippines, Hua said, urging the country to stop construction on the islands and withdraw all people and facility.
Hua noted that China will firmly safeguard its territorial sovereignty and maritime rights and interests. Meanwhile, China has always been ready to find a solution to disputes through direct negotiation with relevant countries.
China will work with members of the Association of Southeast Asian Nations (ASEAN) to fully implement the DOC, strengthen maritime cooperation and promote the negotiation of a Code of Conduct (COC), she said.
"China has never, ever taken actions that may complicate and deteriorate the disputes or affect regional peace and stability," Hua noted.
She urged the Philippines to stop provocation, and work with China and most of ASEAN members to jointly maintain the peace and stability in the South China Sea.