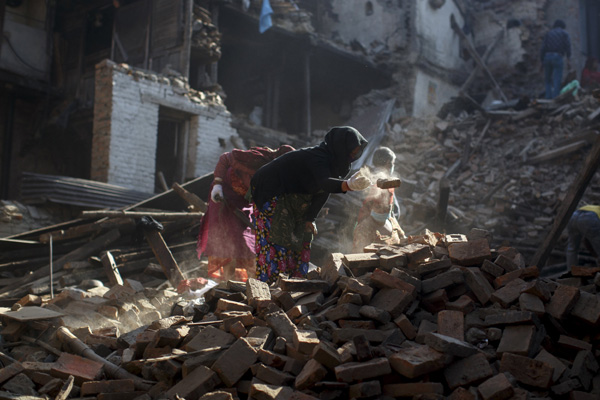 Local residents clear the rubble from their homes which were destroyed after last week's earthquake in Bhaktapur, Nepal, May 4, 2015. [Photo/Agencies]
KATHMANDU - Nepal's National Planning Commission (NPC) has started working out plans for reconstruction and rehabilitation, over one week after the April 25 earthquake, officials said on Monday.
The plans will be presented to the government and the international community, NPC Vice-Chairman Govinda Pokhrel told local media.
"The tasks of assessing the damage done by the earthquake and preparing a proper plan of action will go simultaneously," he said.
The NPC reportedly held discussions on Sunday, attended by experts on reconstruction, with topics including settlement of residents in hills and mountains.
The country's Ministry of Urban Development and Construction has set up a special task force to collect quake damage data, in coordination with the Home Ministry.
Sources from the Home Ministry said the authorities have instructed various district governments to submit damage data as soon as possible.
In the massive earthquake, many offices including the President 's Office, Nepal Army Headquarters and Supreme Court have been partially damaged.
Preliminary assessment made by the Ministry of Education showed that 4,500 government school buildings have suffered serious damages.
Health authorities said health facilities in 14 most-affected districts need to be partially or completely reconstructed.
The Prime Minister's Office has directed the Ministry of Culture, Tourism and Civil Aviation to prepare a plan for the preservation and reconstruction of heritage sites.