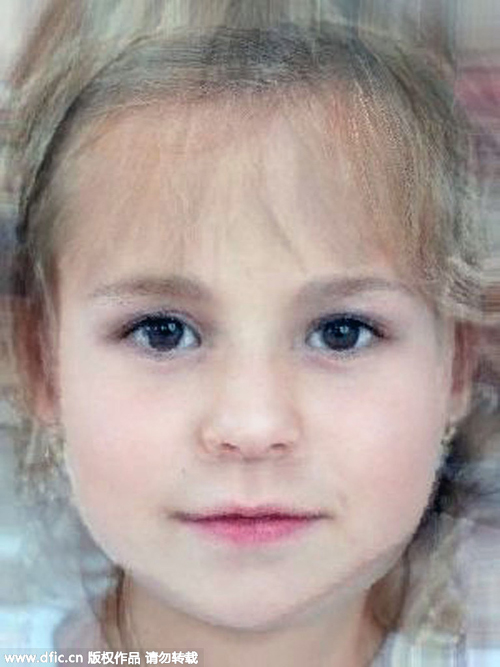 Charanjeet Kondal, a software programmer, using his Morph Thing application predicts the future looks of Britain's new princess, who will have blonde hair, dark brown eyes and a small nose, between two and four years old. [Photo/IC]
LONDON - It may be a day or two before the world knows what to call Britain's new princess. When Prince George, her older brother, was born in 2013, royal officials waited two days before announcing his name.
The Duchess of Cambridge delighted her nation and royal enthusiasts around the world Saturday by delivering a princess that millions in Britain were hoping for.
The baby, Prince William and Kate's second child, was born Saturday morning and weighed 8 pounds 3 ounces (3.7 kilograms), officials said.

She is fourth in line to the throne and the fifth great-grandchild of 89-year-old Queen Elizabeth II. Britain hasn't welcomed a princess born this high up the line of succession for decades.

Speculation about the new royal's name has been frenetic, and all the top bets for the baby's name have been for girls: Alice and Charlotte are the clear favorites, followed by Elizabeth, Victoria and Diana – all names with strong royal connections.

Royal children are usually given several names – the baby's brother was christened George Alexander Louis – so the princess's name could incorporate more than one of those guesses.
Anticipation had been building for weeks after Kate, 33, told a well-wisher she was due around late April. Still, journalists were caught slightly off guard when she delivered barely three hours after checking into the hospital at dawn Saturday. William, 32, was present at the birth.
The couple later emerged on the hospital steps with the infant to briefly pose for photographers before leaving for their home at nearby Kensington Palace. Kate, who wore a yellow-and-white floral shift dress by British designer Jenny Packham, held the sleeping baby wrapped in a white shawl.
The couple looked relaxed but didn't answer any questions. William earlier told reporters he was "very happy" as he brought young George to the hospital to meet his baby sister. George, looking slightly alarmed by all the cameras, waved dutifully at the adoring crowds.
The queen and senior royals were "delighted with the news," officials said. The queen marked the occasion by wearing a pink ensemble while carrying out an official engagement in North Yorkshire, 250 miles (400 kilometers) north of London.
Cheers and chants of "Princess! Princess!" rang out from the hundreds of well-wishers and tourists gathered outside the palace and the hospital as soon as the news was announced. One fan who had camped out outside the hospital for days danced with joy.
"I'm top of the world," said royal camper Terry Hutt, 80, decked out in patriotic Union Jack gear. He did not expect the birth to happen as soon as it did but said: "Babies come when they're ready."