Asian Americans are often depicted in American media as socio-economically advanced but politically petrified, introverted and incompetent public speakers.
However, two Chinese artists in the past week have convinced the world that Asian Americans never stop communicating with others, through their paintings, drawings, calligraphy and poems using a universal language called art.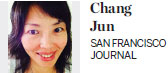 In Santa Clara, California, on Sunday, a group of 150 guests celebrated his 99th birthday with the renowned artist Hou Beiren. Hou was born in Northeastern China's Liaoning province in 1917, was graduated from Kyushu Imperial University of Japan and made remarkable paintings, including landscapes, birds, flowers and calligraphy.
Greatly influenced by Zhang Daqian, Hou's paintings feature the unique Chinese style while revealing profound artistic conceptions in Chinese culture.
Fleeing from war-torn China in the 1940s, Hou once lived in Hong Kong before settling in Northern California in 1956. He has since been engaged in promoting traditional Chinese art in the West, and collaborating with museums and art organizations on the Chinese mainland.
Although he has been living overseas for most of his 99 years, in that has seen its share of adversity and complications, Hou's love for and devotion to China remain consistent.
By 2002, Hou had donated 300 paintings he created and collected, including some by Zhang Daqian and Fu Baoshi, to Kunshan, Jiangsu province. The local government decided to establish a museum named after Hou to house all these treasures, and call Hou a patriot.
To Liaoning, Hou started donating his work and collected masterpieces since 2013 and finally enabling the establishment of his own section at the Liaoning provincial museum in 2015, featuring about 150 artistic pieces.
"On his 99th birthday, we want to wish master Hou an evergreen life and everlasting art," said Chinese Consul-General Luo Linquan, who attended the event Sunday and expressed his heartfelt gratitude on behalf of the Chinese government.
"We thank him for his generosity and patriotism," said Luo. "His achievement in art and his efforts in propagating Chinese culture have reflected the greatness of Chinese culture itself."
Hou is not alone on the course of spreading Chinese culture in the US.
Jay Xu, director of the Asian Art Museum of San Francisco, was recently named to the American Academy of Arts and Sciences 2015 Class of Members. Xu runs the largest Asian art museum in the US, which has more than 250,000 visitors every year.
With founders including John Adams, Benjamin Franklin, Thomas Jefferson and George Washington, the American Academy of Arts and Sciences is one of the nation's most prestigious honorary societies, and a leading center for independent policy research.
Xu received his PhD in 2008 from Princeton University, then spent two years on a research fellowship in the department of Asian Art at Metropolitan Museum of Art in New York, before becoming a curator of Chinese art at the Seattle Art Museum in 1996 and worked there till 2003.
He became head of the Department of Asian Art at the Art Institute of Chicago and later chairman of a department covering not only Asian art but also ancient Egyptian, Greek and Roman civilizations. He arrived at the Asian Art Museum of San Francisco in 2008.
In 2010, Xu presented a special exhibition, Shanghai, at his museum, which featured more than 130 works of paintings, furniture, posters, fashion, movie clips and contemporary installations showcasing one of the world's most dynamic and cosmopolitan cities.
Art and cultural understanding can help nations reduce conflict or ease tension with each other. When you understand and appreciate each other, it's easier to communicate, Xu said in an interview in 2014.
"Museums not only helps appreciate the arts, but understand each other's culture, tradition and history," he said. "Our museum brings Asia and US closer, and enhances the culture diplomacy."
Contact the writer at junechang@chinadailyusa.com