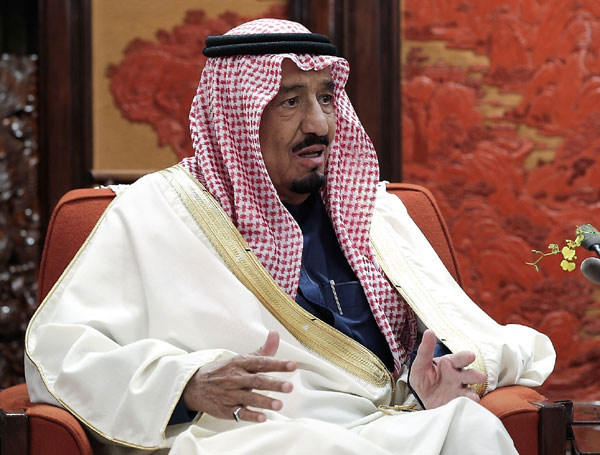 File photo of Saudi King Salman bin Abdulaziz. [Photo/Agencies]
RIYADH -- Saudi Arabia announced on Wednesday the appointment of a new crown prince after the current Crown Prince Mugrin bin Abdulaziz Al Saud stepped down, Saudi state TV Al Arabiya reported.
Saudi King Salman bin Abdulaziz Al Saud appointed his nephew, Deputy Crown Prince Mohammed bin Nayef, as the new crown prince.
A royal decree aired on state TV announced that Mohammed bin Nayef, who is also the kingdom's interior minister and widely known as Saudi Arabia's counterterrorism czar, will replace Muqrin bin Abdul Aziz who had requested to step down. Muqrin was also relieved of his position as deputy prime minister.
Prince Mohammed will also be deputy prime minister and continue to hold his position of interior minister and head of the political and security council.
Mugrin was appointed as the Crown Prince in January after the death of late Saudi King Abdullah bin Abdulaziz Al Saud.
He was named in March 2014 as second-in-line to the Saudi throne in a royal decree that confirmed him as the successor to then Crown Prince Salman, who is now the king.
Muqrin, the youngest son of Saudi Arabia's founder King Abdulaziz al-Saud, was born in 1945 and occupied several senior positions in the kingdom, including special advisor to late King Abdullah.
Besides those changes, Saudi King appointed his son Prince Mohammed bin Salman as deputy crown prince. He will also keep his position as minister of defense and head of the economic and development council.
It comes amid a series of reshuffle across the kingdom's cabinet, which also saw the appointment of current Ambassador to the United States Adel Al Jubeir as the new foreign minister.