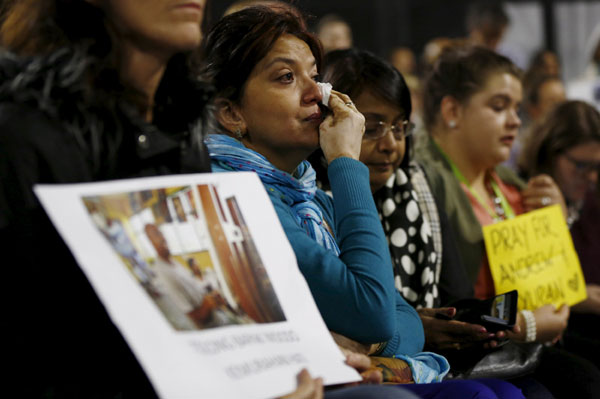 A supporter of two Australian convicted drug traffickers facing execution in Indonesia wipes a tear during a vigil in Sydney, Australia, April 28, 2015.[Photo/Agencies]
CILACAP, Indonesia - Nine drug traffickers met their families for what could be the final time at an Indonesian maximum security prison on Tuesday, after Jakarta rejected international pleas for clemency and ordered their mass execution to proceed, possibly within hours.
The death penalties imposed on eight foreigners and an Indonesian have been condemned by the United Nations, and strained ties between neighbours Australia and Indonesia.
Security at the prison was heightened and religious counsellors, doctors and the firing squad were alerted to start final preparations for the execution of the four Nigerians, two Australians, an Indonesian, a Brazilian and a Filipina.
"We're hoping for a miracle," said Marites Veloso, the sister of death-row inmate Mary Jane Veloso of the Philippines, on her way to the prison.
A dozen ambulances, some carrying white satin-covered coffins, arrived at the Nusakambangan prison island in central Java, where the nine are expected to be executed as early as Tuesday night.
In chaotic scenes outside the jail, Australian family members, some weeping, arrived early to offer their final goodbyes to Myuran Sukumaran and Andrew Chan. One family member collapsed and was carried through the crowd. The convicts will no longer be able to receive visitors from 8 pm local time (1300 GMT) on Tuesday, an indication the execution will likely take place soon thereafter.
Indonesian authorities have declined to specify a time for the executions, due to take place at a nearby clearing in a forest.
The prisoners will be given the choice to stand, kneel or sit before the firing squad, and to be blindfolded. Their hands and feet are tied.
Twelve marksmen are assigned to fire at the heart of each prisoner, but only three have live ammunition. Authorities say this is so that the executioner remains unidentified.