China's top leaders in recent years have been steering people onto a course of innovation-driven growth and development, encouraging people to fully realize the importance of science, technology and new ideas.
During his emblematic visit to Beijing's cutting-edge incubator Z-Park in September 2013, Chinese President Xi Jinping said, "We can't wait, hesitate or slack off… we must enhance awareness of unexpected challenges and grab the opportunities of the science and technology revolution."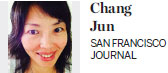 According to California-based couple Tamara Carleton and William Cockayne, internationally recognized scholars in the field of innovation research and education, China is quickly catching up with its Western counterparts in innovation, as the government has not been holding back in laying down solid infrastructure and facilitating individual and institutional advancement.
It is widely believed that it takes three institutions — government, academia and industry — to get innovation going. Carleton and Cockayne insist that multiple models can exist.
In China, Cockayne said, "you've got great infrastructure, stable currency and the government is willing to have people bring in ideas and send ideas abroad."
Both Carleton and Cockayne got their PhDs in mechanical engineering at Stanford University. Carleton is the CEO and founder of the Innovation Leadership Board and works closely with organizations around the world to analyze, develop and foster best practices in innovation.
An innovation lecturer and consultant at Stanford's school of engineering, Cockayne also brings together strategy and technology leaders in companies and universities.
On campus at Stanford, Carleton runs a year-long program called the SUGAR Network while Cockayne teaches core classes. SUGAR means Stanford University Global Alliance for Redesign.
Bringing together multidisciplinary students from eight universities on four continents, the SUGAR Network allows students to participate in solving real-world product development challenges with top-drawer companies like Microsoft, Panasonic, Samsung, SAP, Volkswagen/Audi and Volvo.
In Stanford's current Mechanical Engineering 310 class — in which Cockayne plays a key role as mentor and coach — students at two Chinese universities are currently collaborating with their Stanford counterparts through the SUGAR Network. Students at the University of Science and Technology of China (USTC) are working on advancing Microsoft's Promptu; and Tongji University students are helping tackle SAP's challenge: "How might we use the Internet of Things to improve the global water crisis?"
Throughout the academic year, teachers coach students on how to use the IDEO/Stanford "human-centered" design process in product development, while concentrating on practice-based learning.
Stanford students work with their foreign partners to build prototypes and test them in order to find innovative solutions to the real-world design challenges posed by multinational corporate sponsors, Carleton explained.
Cockayne said his Chinese students in recent years have improved in many ways. In contrast to previous Chinese students who were usually introverted and inarticulate in public and likely to dodge collaborations in class, his six Chinese graduate students this year "are as verbally advanced, creative and energetic as anybody here."
"It's amazing," Cockayne said. "This is a radical change only seen in the last few years."
In the last decade, globalization has played an important role in innovation worldwide, said Cockayne. He believes the Stanford SUGAR Network not only adds diversity to project teams, it also gives students a chance to experience real-life global collaboration issues, such as respecting cultural differences and working in different time zones.
Cockayne praised USTC and Tongji for their efficiency and high-quality collaborations. "We've received many complaints about our European partners," he said, "but not the Chinese universities."
The couple keeps track of innovation and creativity among Chinese enterprises and believes many of them are exceptional.
In its 2014 annual list of the world's Top 50 Most Innovative Companies, Boston Consulting Group included four Chinese companies: computer tech firm Lenovo ranked 23rd; smartphone-maker Xiaomi came in 35th; Internet service portal Tencent was 47th; and networking and telecom equipment and service provider Huawei made it under the wire at 50th.
"Lenovo did not seem like a Chinese company, it's pretty revolutionary and reinventive," said Cokayne. "They have been doing a spectacular job."
Contact the writer at junechang@chinadailyusa.com.