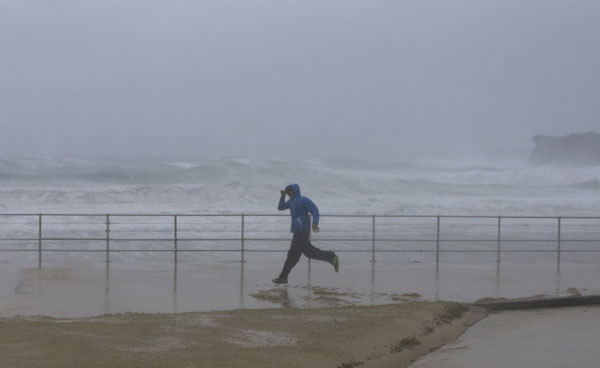 A man runs past heavy seas as sand is blown by heavy winds inland at Sydney's Bondi Beach, April 21, 2015.[Photo/Agencies]
SYDNEY - A cyclonic storm battered Australia's east coast on Tuesday killing three people, washing away houses, cutting power to more than 200,000 homes and stranding a cruise ship off the coast in mountainous seas.
Cyclone-strength winds of up to 135 kph (85 mph) uprooted trees, some crushing cars, snapped power poles and tore off roofs and building awnings.
Huge waves, reaching 11.2 metres (33 feet) offshore, pounded beaches. Rail links to the north and south of Sydney were cut and many roads in Australia's largest city were flooded.
New South Wales (NSW) state premier Mike Baird said conditions were forecast to become even worse and asked workers to head home as soon as possible.
"We are calling for bosses to be flexible, people to make arrangements in an orderly way to start to head home ASAP," Baird told a news conference.
"It is a huge storm event that is wreaking havoc across NSW at the moment. Again, what our priority has to be at the moment is to get through the next few hours and protect life at every opportunity," he said.
A woman and two men were found dead on Tuesday in the town of Dungog, one of the worst-hit areas about 200 kms (125 miles) north of Sydney, police said. Media reports described them as elderly and said they were trapped in their homes as floodwaters rose.