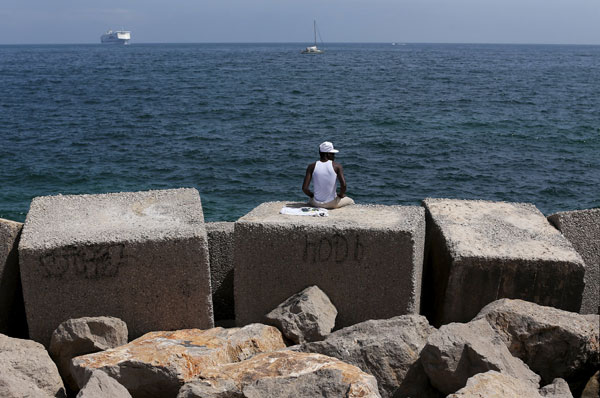 A migrant sits on a concrete block at the waterfront of the Sicilian harbour in Palermo April 19, 2015.[Photo/Agencies]
PALERMO, Italy - As many as 700 people were feared dead after a fishing boat packed with migrants capsized off the Libyan coast overnight, in what may be one of the worst disasters of the Mediterranean migrant crisis, officials said on Sunday.
Twenty eight people were rescued and 24 bodies recovered from the 20 metre-long vessel, which sank around 70 miles from the Libyan coast, south of the southern Italian island of Lampedusa, the Italian coast guard said.
If confirmed, the death toll would bring the total number of dead since the beginning of the year to more than 1,500 as the flow of migrants seeking to flee poverty, war and insecurity in sub-Saharan Africa and the Middle East has continued.
The new deaths fuelled calls for a stronger response from Europe to the increasingly deadly migrant crisis playing out in the Mediterranean. International aid groups and Italian authorities have criticised the European Union's "Triton" border protection operation, which recently replaced the more comprehensive Italian search-and-rescue mission "Mare Nostrum".
"A tragedy is unfolding in the Mediterranean, and if the EU and the world continue to close their eyes, it will be judged in the harshest terms as it was judged in the past when it closed its eyes to genocides when the comfortable did nothing," Maltese Prime Minister Joseph Muscat said.
EU foreign policy chief Federica Mogherini said foreign ministers would discuss urgent action on the migrant issue at a meeting in Luxembourg on Monday.
Italian officials said 17 vessels from the navy and coast guard, merchant ships in the area and a Maltese patrol boat, as well as aircraft from the navy and coast guard, were involved in the search-and-rescue operation, which was being coordinated by the Italian coast guard in Rome.
"They are literally trying to find people alive among the dead floating in the water," Muscat said.
There was still no decision on where the survivors and the bodies that had been recovered would be taken.
The boat is believed to have capsized when the migrants shifted to one side of the overcrowded vessel as a merchant ship approached.
"The first details came from one of the survivors who spoke English and who said that at least 700 people, if not more, were on board. The boat capsized because people moved to one side when another vessel that they hoped would rescue them approached," said Carlotta Sami, a spokeswoman for the United Nations High Commissioner for Refugee.