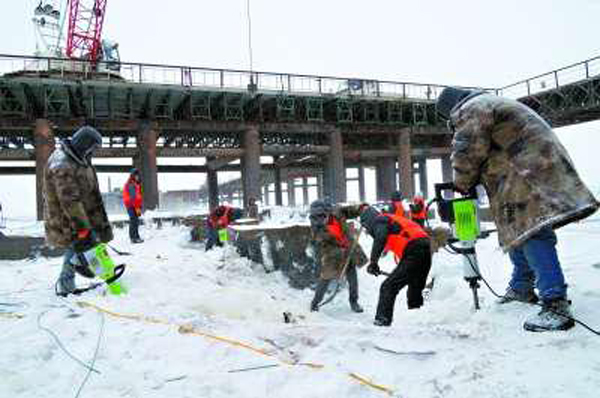 People work at the construction site of a cross-border bridge linking China and Russia in Northeast China's Heilongjiang province in March 2015. [Photo/CRI]
According to Russian media reports, the Russian Prime Minister Dmitry Medvedev has tasked Minister of Transport Maksim Sokolov with taking measures by May 5, 2015, to begin the construction of the Russian section of the railway bridge to China across the Heilongjiang River.
It was reported that the construction of the first bridge across the Heilongjiang River, or Amur River, would start in this year. Previously, construction was penned to start in 2014.
The construction of the railway bridge will create a new transport corridor between China and Russia and lift infrastructural limits on shipment transportation from the new deposits developed in Eastern Siberia and Russia's Far East.
The railway crossing will also enhance the cargo capacity and competitiveness of Russian producers and exporters in the region.

It will shorten the distance between products and customers by approximately 700 kilometers in comparison with other exporting railway routes.
The bridge linking China's northeast Heilongjiang province and Russia's Jewish Autonomous Oblast, runs about 2,200 meters in total, with 1900 meters in China. Investment on the Chinese side is estimated to be 2.6 billion yuan.
The Chinese side has so far completed one third of its construction.
Upon its completion in 2016, the railway bridge is expected to handle cross-border cargo transportation of 21 million tonnes.