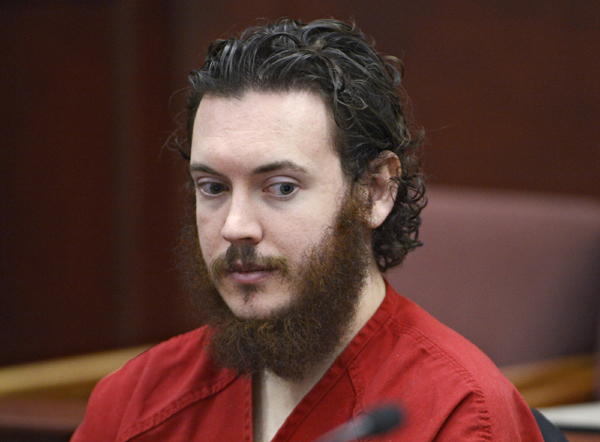 James Holmes sits in court for an advisement hearing at the Arapahoe County Justice Center in Centennial, Colorado, in this file photo taken June 4, 2013. A jury of 19 women and 5 men has been selected to hear the murder trail of Holmes, who is accused of fatally shooting 12 moviegoers and wounding dozens in July, 2012. [Photo/Agencies]
DENVER - After almost three years, the jury for the death penalty trial of Colorado movie theater shooter James Holmes has finally been sworn-in.
The selection of 19 women and 5 men Tuesday evening from the largest jury pool in US history fills the required 24 jurors and alternates spots. They will decide whether Holmes lives or dies.
Holmes, 27, has pleaded not guilty by reason of insanity in the horrific July 2012 shooting at a midnight Batman movie screening that left 12 people dead and 70 injured.
Arapahoe County District Court Judge Carlos Samour repeated Tuesday that he wants to hear opening statements on April 27 and testimony to start April 28.
Prosecutors will contend Holmes was sane at the time of the attack and will ask jurors to sentence him to death.
The former University of Colorado graduate student faces 166 counts of first-degree murder and attempted murder.
The defense says Holmes was in the "throes of a psychotic episode" at the time of the mass shooting, one of the worst in US History.
If found insane at the time of the shooting, Holmes will be committed indefinitely to a state psychiatric hospital.
Jury selection, that saw 9,000 potential candidates contacted, began in late January and has been detailed and exhausting. Many juror candidates were dismissed due to strong views on the death penalty and mental illness.
Holmes appeared in court Tuesday wearing a beige shirt and khaki pants, short hair and a mustache, unlike other appearances when he wore a bushy beard and looked very unkempt. He sat impassively during the proceeding.
Arapahoe County District Attorney George Brauchler told jurors they were "in for a horrible 4-5 month roller coaster through the worst haunted house you can imagine," and that the trial will show grisly photographs and video of victims and the crime scene.
Public defender Tamara Brady complained to the judge that the prosecution had dismissed too many potential jurors who were Hispanics. Traditionally, Hispanics side with the defense, studies show.
Brady, whose complaint was ignored, asked jurors how they felt Monday when they heard the judge spend almost 90 minutes reading aloud each of the 166 charges Holmes faces.
After hearing the charges, one female prospective juror was released Tuesday when she told the court she would be unable to render a not guilty verdict.
Brady asked jurors Tuesday if they were prepared for intensive media coverage expected to accompany the proceedings.