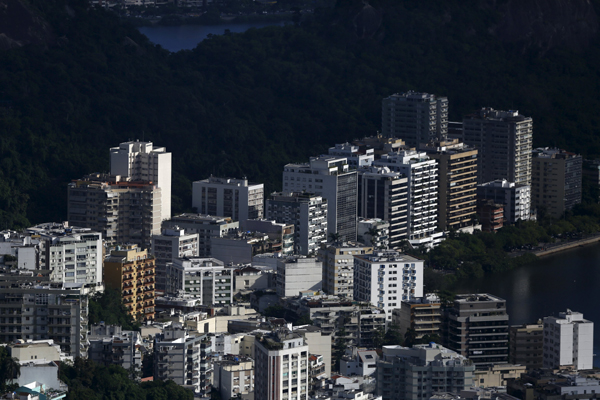 A general view shows the city of Rio de Janeiro, Brazil, April 8, 2015. [Photo/Agencies]
BRASILIA - Brazil's economic contraction in 2015, estimated to be 1 percent, will weaken growth throughout Latin America, according to a report released Tuesday by the International Monetary Fund (IMF).
The IMF's latest World Economic Outlook, which titles its chapter on the region "Latin America and the Caribbean: Another Year of Subpar Growth," predicts the region as a whole will grow a scant 0.9 percent this year.
"Latin America's outlook will continue to weaken," the report said, due to lower oil and commodity prices worldwide, in addition to Brazil's expected poor performance, caused by "a drought, tighter macroeconomic policies, and weak private sector sentiment."
"Recent sharp declines in oil prices, although a net positive for the global economy and for oil- and commodity-importing regions, are weighing on the commodity-exporting countries of Latin America and the Caribbean," the report said.
"With no apparent impulse for a near-term pickup in activity and the prospect of persistently lower commodity prices ... regional growth is now projected to dip below 1 percent in 2015 ..., well below the 4.1 percent average growth observed during the 2004-2013 period," the report added.
A main indication of the continuing trend, said the report, is that Latin America grew only slightly in the second half of 2014, again due to weaker activity in Brazil, as well as lower than expected growth in Mexico and a general economic slowdown in other regional economies.
In 2014, annual economic growth in Latin America dipped for the fourth year in a row, registering 1.3 percent region-wide, and 0.1 percent in Brazil.
The report's projected economic indicators show Brazil's inflation in 2015 will reach 7.8 percent, but recover somewhat in 2016 to 5.9 percent.
In Argentina, the region's third largest economy, after Brazil and Mexico, the economy is also expected to contract in 2015, albeit by a slight 0.3 percent.
The regional economy expected to be the worst this year is oil-dependent Venezuela, which the IMF expects to experience a 7 percent contraction.