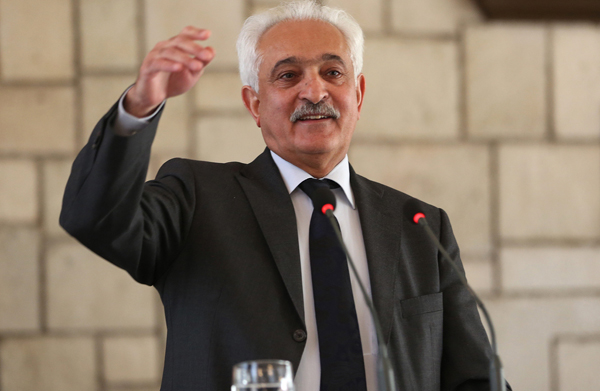 Afghan National Security Adviser Rangin Dadfar Spanta addresses a news conference at presidential palace in Kabul, Afghanistan, Jan 30, 2014. [Photo/IC]
KABUL - The historic Bandung Conference held in 1955 among some Asian and African nations in Indonesia still has its credibility in the new world order, veteran Afghan politician and former foreign minister Rangin Dadfar Spanta said in a recent interview with Xinhua.
In 1955, representatives from 29 Asian-African countries gathered in Bandung, Indonesia to discuss independence, peace and economic prosperity. The conference adopted a final communique containing 10 principles, which underline respect for sovereignty and territorial integrity of all nations and recognizing of the equality of all races and the equality of all nations. Afghanistan was also invited to attended the conference.
The core principles of the Spirit of Bandung are solidarity, friendship and cooperation.
In an exclusive interview with Xinhua earlier this month, the former Afghan foreign minister and former presidential advisor on national security said that the 10-point principles of the Bandung Conference stressed non-interference, respect for territorial integrity and independence of countries and commitment to the Charter of the United Nations.
"All these principles are still important for co-existence of our countries and peoples in the world especially for the Asian countries."
"I believe today we need to have a united voice from these countries and the People's Republic of China, from my point of view, should play a leading role in this regard," the veteran politician observed.
Rangin Dadfar Spanta also described China as a good friend of Afghanistan and called on it to play a more active role in peace and stability in the region and the world at large.
"China as the second largest economic power has the potential to invest in Afghanistan's rich natural resources and also China can raise Afghanistan's connectivity with the regional countries, "Spanta said.
Talking about the Sino-Afghan ties, the former Afghan top diplomat said that "the bilateral relations are exceptional and the other countries can learn from our relations based on mutual respect, cooperation, good neighborhood, conflict-free and mutual support for each other on the international and national issues."
"We are very proud to have China as our neighbor and good neighbor," Spanta who served as the national security advisor to former Afghan President Hamid Karzai went on to say.
Noting there is still a gap between the potential and real economic cooperation between the two countries, the veteran diplomat said China has a strong potential and investment capacity and Afghanistan has rich natural resources.
On China's international role, the Afghan former foreign minister said "China as a leading nation and a permanent member of the United Nations Security Council, must play an active role for peaceful resolutions of conflicts and disputes in the world, for example in solving dispute in the Middle East, difficulties between Iran and the western powers."
"In my point of view most importantly China can play its role for unification of Asian nations to have a collective defense policy, to resolve our own problems in our home. Asia is our continent and China has to play an active role by bringing the countries closer together," he said.
Lauding China's foreign policy, Spanta stated that China has a "tradition of non-interference" and good neighborly relations especially with Afghanistan and "we never had dispute in our history."
Talking about constructing the China-proposed Silk Road Economic Belt, Spanta said "Now revitalization of this historical road has a symbolic relevance for us and to put that into practice today means using Afghanistan as a contact point between China and the east, Persian Gulf in the west and also central Asian countries, the SAARC member states including Pakistan and India."
He stressed that revitalizing the silk road would be from one hand a process of realization of regional integrity and regional cooperation and from the other, will give a chance to the countries of this region to play an active role in the process of globalization and economic growth and development.