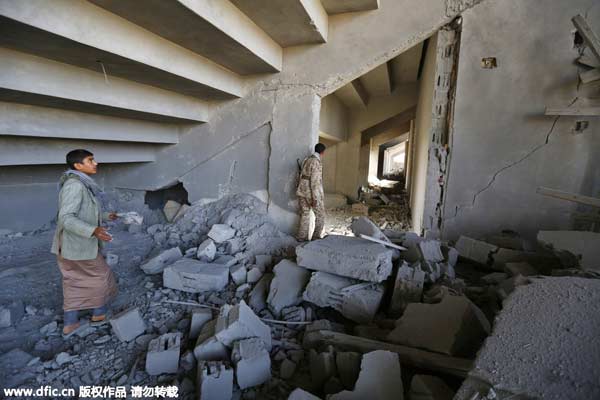 A member of the Houthi militia and a young Yemeni walk among the ruins of a stadium allegedly destroyed by a Saudi airstrike on Sanaa, Yemen, April 12, 2015. [Photo/IC]
SANAA, Yemen - Yemen's President Abed Rabbo Mansour Hadi, who fled the country in the face of a rebel advance last month, has tapped his former Prime Minister Khaled Bahah to be vice president in a move aimed at strengthening the embattled executive branch, an official close to Hadi said.
The Shiite rebels, known as Houthis, had demanded the formation of a presidential council instead. Along with military units allied with former President Ali Abdullah Saleh, they control the capital, Sanaa, and much of the country's north, and have advanced despite more than two weeks of Saudi-led airstrikes.
Mohammed Abdel Salam, a Houthi spokesman, denounced the appointment of Bahah in televised comments on a pro-Houthi channel. He said that the Houthi group will not recognize decisions promulgated by Hadi and that anything pertaining to the country's politics should be decided upon through dialogue within the country.
UN special envoy for Yemen Jamal Benomar has been urging the parties to come to a negotiated settlement. Saleh has also called for a UN-sponsored dialogue.
Hadi fled the capital earlier this year after the Houthis put him under house arrest, and established a temporary capital in the southern port city of Aden. He later sought refuge in Saudi Arabia as the rebels and their allies closed in on Aden, which is now gripped by fierce fighting.
The Houthis also held Bahah and other Cabinet ministers under house arrest for weeks, eventually setting them free in the middle of March. During their detention, Bahah and the Cabinet members resigned in protest. Bahah is currently visiting Saudi Arabia.
Bahah, who hails from southern Yemen, served as Yemen's ambassador to the United Nations before he was appointed prime minister following weeks of political deadlock.