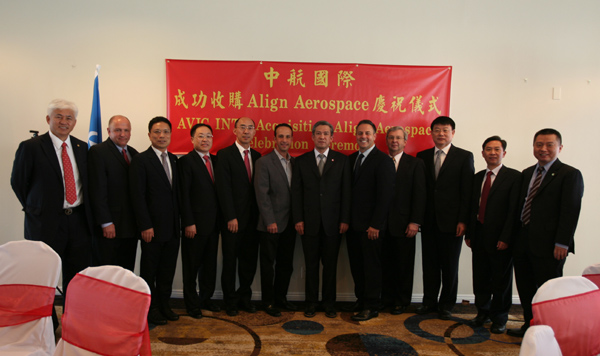 AVIC announces its acquisition of Align Aerospace at a ceremony on April 10 in Los Angeles. Attended the event were Tan Ruisong (6th from right), president of AVIC, Wu Guangquan (4th from left), chairman of AVIC International, and Andrew Roberts (2nd from left), CEO of Align. (Provided to China Daily)
AVIC International Holding Corp Ltd, a subsidiary of the Aviation Industry Corp of China, has completed the purchase of Align Aerospace Holding Inc, a Chatsworth, California-based distributor of aerospace fasteners and other hardware.
AVIC International and Greenbriar Equity Group LLC, a private equity firm and Align's current principal shareholder, reached an agreement to sell Align to AVIC International Holding (Zhuhai) late last year.
The two sides recently closed the deal after receiving approvals from both the Chinese and US governments. However, no further details, including the purchase price, were available.
"AVIC will support AVIC International to expand [its] aerospace service portfolio and boost its domestic supply chain management with the acquisition of Align," said Tan Ruisong, president of AVIC, at a ceremony April 10 in Los Angeles.
Align Aerospace is a distributor to aerospace original equipment manufacturers (OEMs) and OEM suppliers.
"Align will bring valuable experience in aerospace supply chain management to AVIC International," said Wu Guangquan, chairman of AVIC International.
"With AVIC International's investment, resources and relationships, we plan to grow Align's relevance with its current customers in parallel with expanding the business globally, especially in the Chinese market," he said.
"We are truly excited about the opportunity for Align to join with AVIC International," said Andrew Roberts, CEO of Align. "AVIC International's long-term focus on growth and supporting major commercial aerospace customers globally are a perfect fit for Align."
AVIC International USA President Zhang Xuming agreed that it's the right time for AVIC to acquire Align.
"AVIC has the need and desire to expand its business globally, and Greenbriar was looking for buyers at a time when the economy recovers (from the 2008 global financial crisis)," he said.
"We are proud that a company of AVIC International's stature, capabilities and resources will be Align's new owner and can support the company's future growth and development," Noah Roy, managing partner of Greenbriar, said in a statement last month.
With the purchase of Align, AVIC International will be able to integrate the distribution teams in the US, Canada and China's Zhuhai, which is expected to help in aviation hardware purchases, stocking and distribution for aviation manufacturing and maintenance industries in China and other countries, Zhang said.
In 2011, AVIC acquired US-based aircraft maker Cirrus and US-based Continental Motors, and in 2009, acquired Future Advanced Composite Components, an offshoot of Austrian ski maker Fischer.