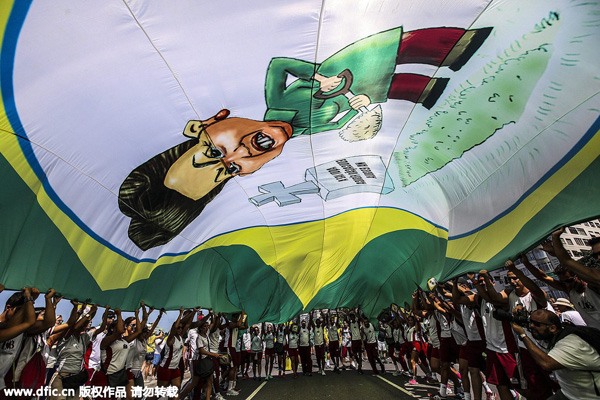 People wave a flag with an image of Brazilian President Dilma Rousseff during a demonstration against her government at Copacabana beach in Rio de Janeiro, Brazil, April 12, 2015. [Photo/IC]
SAO PAULO - Nationwide demonstrations calling for the impeachment of President Dilma Rousseff swept Brazil for the second day in less than a month, though turnout at Sunday's protests appeared down, prompting questions about the future of the movement.
A poll published over the weekend suggested the majority of Brazilians support opening impeachment proceedings against Rousseff, whose second term in office has been buffeted by a corruption scandal at Brazil's largest company, oil giant Petrobras, as well as a stalled economy, a sliding currency and political infighting. Only 13 percent of survey respondents evaluated Rousseff's administration positively.
Sunday's protests, which took place in cities from Belem, in the northern Amazonian rainforest region, to Curitiba in the south, were organized mostly via social media by an assortment of groups. Most were calling for Rousseff's impeachment, but others' demands ranged for urging looser gun control laws to a military coup.
While last month's protests drew substantial crowds in several large cities, Sunday's turnout was lackluster.
In Rio, several thousand people marched along the golden sands of Copacabana beach, many dressed in the yellow and green of the Brazilian flag. The March 15 protest, by contrast, drew tens of thousands.
In the opposition stronghold of Sao Paulo, about 100,000 people marched on the city's main thoroughfare, according to an estimate by the respected Datafolha polling agency. The crowd was less than half the size of last month's demonstration here, when more than 200,000 people turned out, making it the biggest demonstration in Sao Paulo since 1984 rallies demanding the end of the military dictatorship.
"I was on the avenue on March 15 and without a doubt, today's demonstration was much smaller," said Antonio Guglielmi, a 61-year-old sales representative for construction materials company, vowing, "I will keep coming back to demonstrations like this one - big or small - because it is the best way for us to make our voices heard and demand an end to the Dilma government and the PT and end to corruption. The country cannot go on like this."