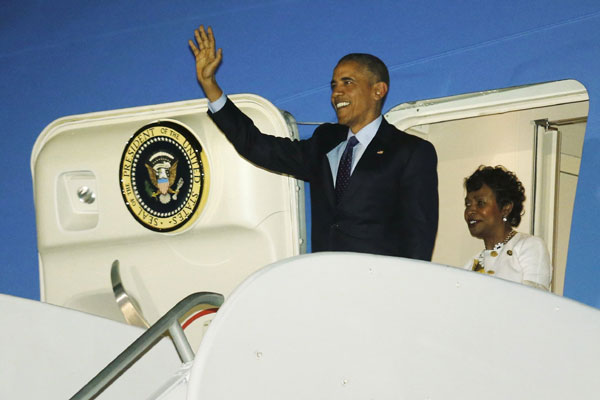 US President Barack Obama waves as he arrives aboard Air Force One at Norman Manley International Airport in Kingston, Jamaica April 8, 2015.[photo/Agencies]
KINGSTON, Jamaica - US President Barack Obama's visit to Jamaica is weighted with US self-interest as Caribbean nations seek to reduce their dependence on subsidized oil from economically struggling Venezuela.
Obama arrived at the Norman Manley International Airport in Kingston Wednesday evening for a less-than-24-hour visit here.
Obama will hold meetings Thursday with Jamaican Prime Minister Portia Simpson Miller and with other leaders in the 15-member Caribbean Community, with energy security as one of the top issues on his agenda.
White House officials say the US sees significant energy needs in the Caribbean and is prepared to put US energy resources as well as energy infrastructure at their disposal.
The US president will attend a wreath laying ceremony in honor of veterans of World War I and World War II at the National Heroes Park, and a youth forum at the University of the West Indies.
From Jamaica, Obama will go to Panama for the Summit of the Americas on Friday and Saturday.
This is the second visit by a sitting US president to Jamaica in history, with the first one made by Ronald Reagan in 1982. He was last in the Caribbean region in 2009 when he attended the Summit of the Americas in Trinidad.