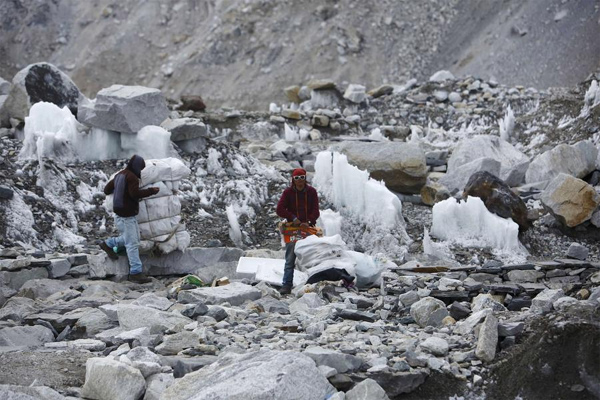 Garbage collectors collect rubbish at the deserted Mount Qomolangma base camp, approximately 5,300 meters above sea level, in Solukhumbu District, May 6, 2014. [Photo/Agencies]
A 34-member Indian Army team is preparing to clean up Mt Qomolangma next month and is expected to collect four tons of waste left by generations of climbers.
"Sadly, Mount Qomolangma is now also called the world's highest junkyard, and our task is to bring down the waste," team leader and Major Ranveer Singh Jamval said.
"This is a very ambitious mission. The team will be split into two groups. One will attempt to climb Mount Qomolangma while the second will set out to scale Mount Lahotse, the fourth highest peak in the world. Thirty days have been set aside for the team's Qomolangma mission".
The undertaking is to mark the golden jubilee of the first Indian conquest of the world's highest peak.
In 1965, an Indian team led by Captain (then Lieutenant Commander) M.S. Kohli scaled Mount Qimolangma (Sagarmatha) for the first time.
The army says the expedition is also in response to Indian Prime Minister Narendra Modi's vision of a clean environment with a campaign "Swachh Bharat Abhiyan" or Clean India Mission, starting last October.
"The team has been training hard for a year for this mission. They have scaled many other Indian mountains and no non-biodegradable waste has been left behind. This is the new standard operating procedure to scale the peaks," said Jamval.