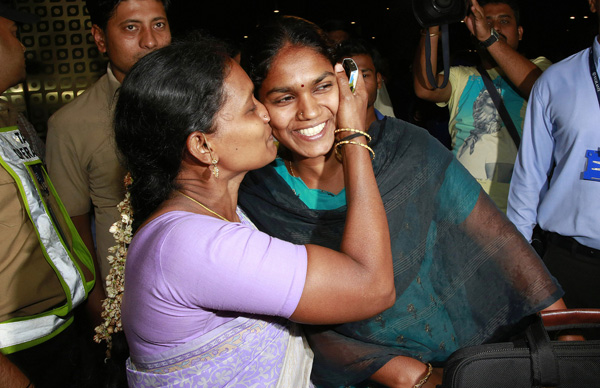 An Indian woman (L) greets her relative who arrived at Chhatrapati Shivaji International Airport in Mumbai, India, April 2, 2015 after being evacuated from Yemen. [Photo/IC]
NEW DELHI - Indian air force planes brought home 358 Indians from war-ridden Yemen early Thursday morning, said local media.
An air force C17 Globemasters carrying 168 Indians evacuated from Yemen landed in the southern city Kochi, while another plane of the same kind with 190 Indians arrived in Mumbai, as part of the government's mission to rescue Indians stranded in the country, said Press Trust of India.
The evacuees were brought first to Djibouti on an Indian navy vessel from Aden, said a spokesperson in the External Affairs Ministry on Wednesday.
About 4,000 Indians were working or living in Yemen at the time of the outbreak of war in the country last month.