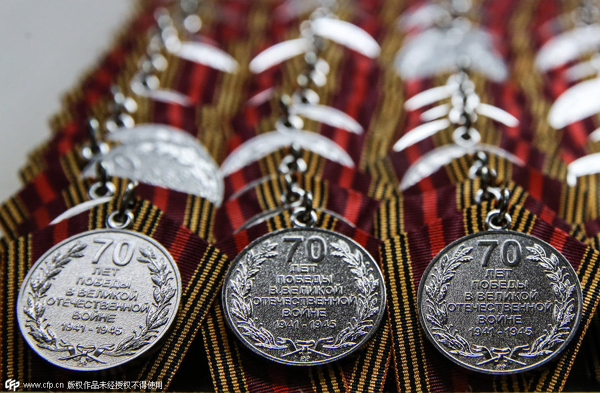 Medals marking the 70th anniversary of victory in the Great Patriotic War (1941-1945) are seen at the Russkiye Remesla Center in Yaroslavl, Russia, Feb 24, 2015. [Photo/CFP]
Jubilee Medals will be presented to 40 Chinese veterans of World War II at the Russian Embassy in China later this month, Ambassador Andrei Denisov said.
"One of the key events at our embassy will be the awarding ceremony of Chinese veterans with the Russian Jubilee Medals for the 70th anniversary of victory in the Great Patriotic War," the Russian envoy to China was reported as saying by agencies.
Denisov said the peoples of the USSR and China have paid an uncountable price for the victory and emphasized the importance of historical accuracy and the need to counter free interpretation and willful distortion of World War II history.
The ceremony will be held on April 15.
China and Russia will hold about 60 joint activities as part of a combined celebration of the 70th anniversary of the end of World War II, including mutual visits of the leaders of both countries. Chinese President Xi Jinping will take part in a Victory Day celebration in Moscow on May 9, while Russian President Vladimir Putin will participate in September celebrations in Beijing.
During the past two years, the heads of state have met 10 times, reaching a series of important consensuses on strengthening the comprehensive strategic partnership and bilateral cooperation in all spheres.