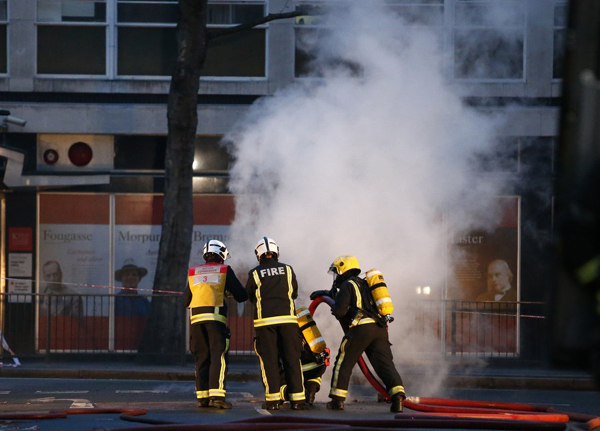 Firefighters tackle a fire under Kingsway in the west end of London on April 1, 2015. [Photo/CFP]
LONDON - More than 2,000 people were evacuated Wednesday from a number of buildings in London's Holborn area due to an electrical fire among cables under a pavement, London Fire Brigade (LFB) said.
"Fire crews are dealing with an electrical fire among cables under the pavement on Kingsway, Holborn," LFB said in a statement.
The alarm was raised after smoke was seen coming out of an inspection cover on the pavement, according to local fire authorities.
"A large safety cordon is in place and more than 2,000 people have been evacuated from a number of nearby buildings due to the large quantity of thick black smoke in the area," the statement added.
Around 70 firefighters rushed to the scene to tackle the fire. "No reports of injuries and local offices have been evacuated," LFB tweeted.
LFB said six fire engines and tens of firefighters and officers were at the scene, while crews were waiting for utility companies to disconnect the power supplies before tackling the blaze.
Local police said Holborn Underground Station and a number of nearby roads were closed to assist with the management of pedestrians. Cordons were in place to protect firefighters and pedestrians. Motorists were being advised to avoid the area.
"Long queues remain on diversion, especially east-bound on the Strand from Trafalgar Square, and west-bound on High Holborn from Holborn Circus," the Transport for London (TfL) announced on Wednesday afternoon.