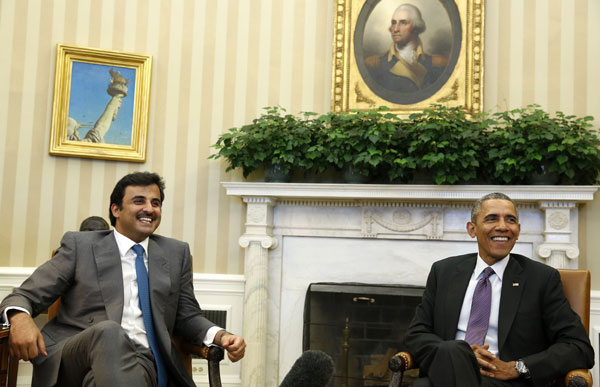 US President Barack Obama and Emir of Qatar Sheikh Tamim bin Hamad al Thani smile while in the Oval Office at the White House in Washington February 24, 2015.[Photo/Agencies]
WASHINGTON - The United States and Qatar have a very strong security relationship and both are committed to defeating the Islamic State (IS) group, US President Barack Obama said Tuesday.
"Qatar is a strong partner in our coalition to degrade and ultimately defeat ISIL," Obama told reporters after meeting with Qatari Emir Sheikh Tamim bin Hamad Al Thani at the White House, using an alternate acronym of the extremist group.
Qatar is a member of the US-led coalition against the IS and hosts a large US military base. It has also agreed to host a regional training site for the moderate Syrian opposition.
Obama said Washington and Doha share deep concern about the situation in Syria and believe that it will not be possible to fully stabilize the country until its leader Bashar Assad is " transitioned out."
The Qatari Emir, who is on his first official visit to Washington, said the US and Qatar are both concerned about the situation in the Middle East. He also urged efforts to find a solution for the Israeli-Palestinian conflict.
Doha is accused by some countries of backing hard-line Islamist groups in the Middle East and financing terror groups. Qatari officials have denied the allegations, stressing that they are not funding radical groups but moderate ones.
"The administration does continue to work closely with the Qataris to try to improve our efforts to shut down the financing for terror operations," said White House spokesman Josh Earnest Tuesday in response to a question on the allegations against Doha.
"The Qataris have been an effective partner in that endeavor so far," Earnest said. "But we do believe that there is more that they can do and more that we can do together to shut down the financing of terror operations around the globe."