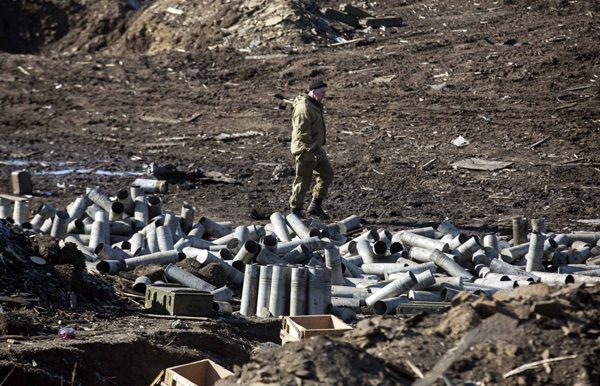 A fighter with the self-proclaimed Donetsk People's Republic army looks for ammunition in a destroyed Ukrainian army compound in the town of Debaltseve February 22, 2015. [Photo/IC]
KIEV -- A blast killed at least two people and injured nine others during a march in the eastern Ukrainian city of Kharkov on Sunday, casting a shadow over the 10-day-old cease-fire agreement.
The blast happened during a peaceful march marking the first anniversary of the regime change that has caused major upheavals in Ukraine and beyond.
According to TASS news agency, one policeman and a civilian died in the blast, and three of the wounded were in serious condition.
Kharkov regional police chief Anatoly Dmitriyev termed the explosion as a "terrorist attack."
The Security Service of Ukraine detained four suspects in connection with the explosion, and weapons, including a grenade launcher, were found with them.
"According to preliminary reports, a bomb filled with shrapnel was set off in Kharkov. The bomb was placed in a plastic bag. It was hidden under the snow at the roadside," said Kharkov regional prosecutor Yuriy Danylchenko.
Earlier reports quoted eyewitnesses as saying that the explosion was caused by an explosive device thrown from a passing car into the rally crowd.
Alexander Pivovar, head of Kharkov regional department of the Security Service, said the bomb was similar to that used in the powerful explosion in the same city on Jan 19, which injured 13 people.
Alexander Turchynov, secretary of the Ukrainian National Security and Defense Council, said the highest-level terror alert has been declared in Kharkov and a counter-terrorism campaign has been launched.
Kharkov, the second-largest city in Ukraine, has witnessed several powerful blasts in the past few months.
Also on Sunday, the Ukrainian government and pro-independence insurgents agreed to withdraw their heavy weapons from the front line in eastern Ukraine over the next two weeks.
"The plan was signed in the early hours of this morning. We have two weeks to remove heavy weapons starting from today," the Interfax news agency quoted senior rebel commander Eduard Basurin as saying.
A government spokesman also confirmed the withdrawal plan.
Meanwhile, TASS quoted Basurin as saying that the actual pullout will start from Tuesday and preparations are under way.
The pullback is part of the latest cease-fire deal agreed by leaders of Ukraine, Russia, France and Germany on Feb. 12.
Sunday's blast in Kharkov came one day after Kiev and the insurgents swapped nearly 200 prisoners of war in line with the peace agreement. Both sides are also reported to be preparing for further swaps in the near future.