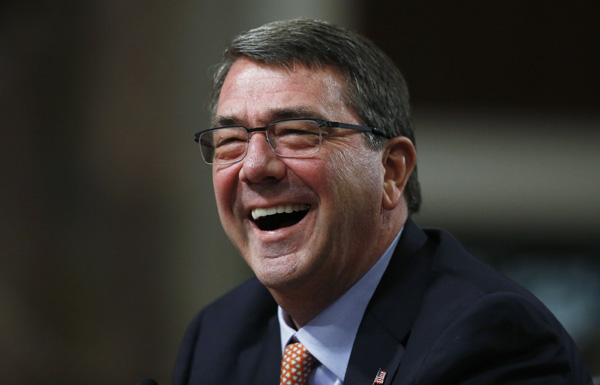 Ashton Carter, US President Barack Obama's nominee to be secretary of defense, laughs while testifying before a Senate Armed Services Committee confirmation hearing on Capitol Hill in Washington, in this February 4, 2015 file photo. [Photo/Agencies]
WASHINGTON - The US Senate voted overwhelmingly on Thursday to confirm Ashton Carter as President Barack Obama's next secretary of defense.
Carter, 60, who was approved in a 93-5 vote, served as deputy defense secretary, the Pentagon's No. 2 position, from 2011 to 2013. He was also the Defense Department's chief weapons buyer from 2009 to 2011 when he led a major restructuring of the F-35 fighter jet program.
At his confirmation hearing on Feb 4, Carter underscored his determination to boost the U.S. defense budget, drive down the cost of new weapons and make sure new technologies are delivered to troops quicker.
He also told lawmakers he was leaning in favor of providing arms to Ukraine but later cautioned that the focus of the international community's efforts to handle the crisis must remain on pressuring Russia economically and politically.
Carter will be Obama's fourth defense secretary, succeeding Chuck Hagel, who resigned under pressure last year.