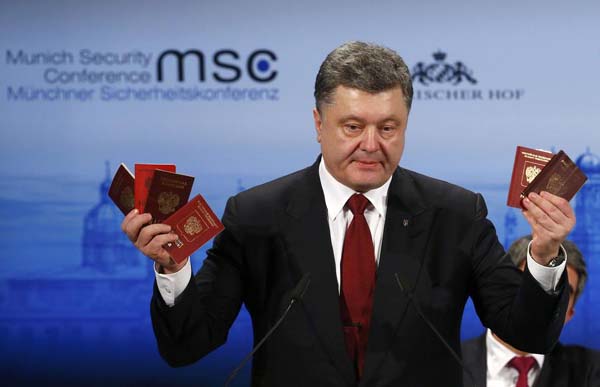 Ukraine's President Petro Poroshenko holds Russian passports to prove the presence of Russian troops in Ukraine as he addresses during the 51st Munich Security Conference at the 'Bayerischer Hof' hotel in Munich February 7, 2015. [Photo/Agencies]
KIEV - Ukraine's president has asked parliament to agree to the dismissal of General Prosecutor Vitaliy Yarema, according to the text of an official request posted on the parliamentary website on Tuesday.
The notice did not explain President Petro Poroshenko's reasons, but deputies, activists and the country's Western backers have regularly accused the prosecutor's office of failing to tackle corruption and roll out reforms.
Overhauling Ukraine's judiciary is one of the targets of government's comprehensive reform program, agreed with the International Monetary Fund and other international lenders in exchange for billions in financial aid.
Yarema was appointed last June in the wake of the ousting of former president Viktor Yanukovich after months of street protests.
He has since faced criticism for the slow pace of investigations into alleged crimes committed in the Yanukovich era and against protesters.
An IMF team has extended its current visit to Kiev, where it is in talks with Ukrainian authorities about boosting financial support. The Fund, along with Ukraine's other Western supporters, has said that any extra financial help will hinge on Kiev's ability to implement long-promised reforms.