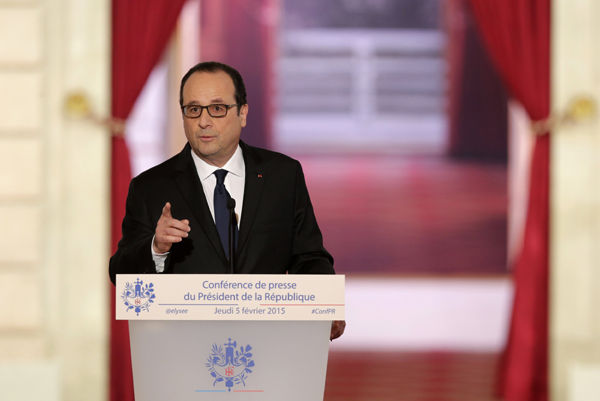 French President Francois Hollande attends a news conference at the Elysee Palace in Paris February 5, 2015. [Photo/Agencies]
PARIS - French President Francois Hollande on Thursday said he would not seek a second mandate if he fails to deliver on his pledges to expand national wealth and lower a long-running rise in joblessness.
During his fifth press meeting, Hollande, cornered by growing critics over failure to fix France's economic troubles, said "if (a president) does not achieve his targets, he can not be a candidate (for 2017 presidential race)".
"The popularity must not be a factor to make decision. I took decisions with a very low popularity, I did so with a little improved one. I will always take decisions till the end," he said.
Despite his broken promises to trim millions of job claims, Hollande stressed "the rise in unemployment is not a fatality. We will continue reforms. We will continue to simplify (procedures)."
"We have to go further with reforms concerning youth employment, integration of long-term unemployed people, improve the performance of our businesses, facilitate the financing of our economy," he added.
To French head of state, the eurozone's second largest power "can not preserve its unity, maintain its own position and act in Europe if it isn't strong economically strong."
"We must be bold and show willingness and initiatives," the Socialist leader told reporters.