Out of a wheelchair and sporting a red outfit, Argentine President Cristina Fernandez de Kirchner was back on two feet in Beijing on Wednesday for a meeting with President Xi Jinping.
Kirchner, 61, has been recovering since breaking her ankle on Dec 26, forcing her to cancel several overseas trips. Xi wished her a full recovery during her visit to China.
Both countries signed 15 agreements, covering areas including finance, nuclear energy, space technology, telecommunications and culture.
One nuclear agreement will allow both countries to build a nuclear power station in Argentina.
Xi said nuclear power will be a key sector pushed for-ward by the two countries. He called for greater cooperation on infrastructure, agriculture, energy, mining and equipment manufacturing.
Kirchner said Argentina is diversifying energy sources and looks forward to strengthening nuclear energy cooperation with China and using Chinese nuclear technology.
She said Argentina also welcomes Chinese car and telecommunication companies setting up factories in her country, as well as enterprises developing Argentina's mineral resources, including potassium and lithium.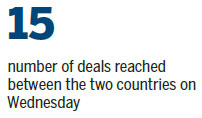 She told Xi she could barely walk before her visit to China, but said she had insisted firmly on making the trip to bolster development of ties between the countries.
Xu Yicong, a former Chinese ambassador to Argentina, said the visit shows the great importance that Buenos Aires attaches to the relationship and China's role in Argentina's development.
Last year, the International Monetary Fund forecast two years of recession for Latin America's third-biggest economy.
Sun Yanfeng, a Latin America studies researcher at the China Institutes of Contemporary International Relations, said Chinese investment will offer timely support for Argentina.
Both countries have great potential for cooperation, as Argentina has rich resources, a huge market and know-how, but also needs investment to upgrade its bottlenecked infrastructure, including roads, railways and ports, Sun said.
zhaoshengnan@chinadaily.com.cn
(China Daily 02/05/2015 page1)