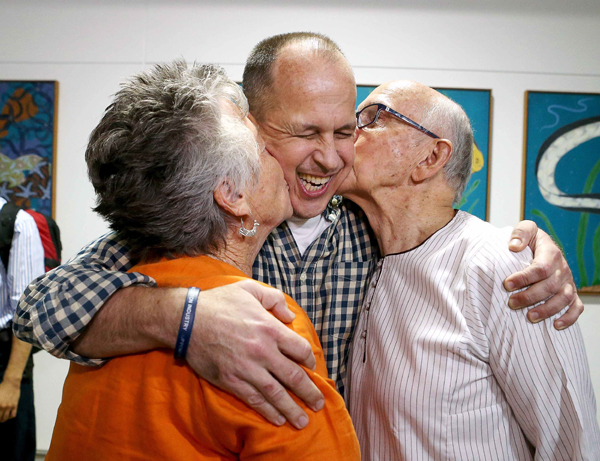 Australian journalist Peter Greste (C) receives a kiss from his mother Lois (L) and father Juris upon his return home at Brisbane International Airport, early February 5, 2015. [Photo/Agencies]
SYDNEY - Australian journalist Peter Greste arrived home in Brisbane on Thursday morning after spending 400 days in an Egyptian jail.
He was met by cheering family and friends plus a large media contingent, many of them who had worked with Greste in the past.
Greste was suddenly freed from a Cairo jail on Sunday and was swiftly deported, first landing in Cyprus with his brother Mike before preparing to return to his hometown.
The pair cleared customs at 1.20 am (local time) on Thursday and were met by parents Lois and Juris Greste, brother Andrew and their families plus other friends.
"It's awesome to be home, back on Australian soil and I'm a very, very happy man," he said in the arrival lounge.
"I didn't think I'd see this day. I imagined it many, many times - about 400 times in fact.
"This is a moment that I've rehearsed in my mind over the last 400 days and it feels absolutely awesome to be here."
Greste, 49, was working for the Al Jazeera news network covering unrest in Egypt caused by the anti-government Muslim Brotherhood.
Local police arrested him and two colleagues on Dec 29, 2013, just a week after they arrived in the country.
They were accused of being Muslim Brotherhood sympathizers, and charged with false reporting.
They were detained, and in June last year Greste received a seven year jail term amidst international outcry by governments, media organizations and accusations of a miscarriage of justice at their trial.
Greste did not forget to mention his colleagues, who remain in jail in Egypt, upon arrival in Brisbane.
"But this is all tempered...by real worries for my colleagues, for Mohamed Fahmy, for Baher Mohammed, for all of the other guys that were imprisoned alongside us," he said.
Greste has vowed to continue fighting for their freedom.
Greste's family campaigned tirelessly for his release, as did the Australian government, his employer and thousands of supporters around the world.
"My family have been the rock, the bedrock throughout all of this," he told gathered reporters.
Greste was freed after intervention by Egyptian President Abdel Fatah al-Sisi under newly decreed laws allowing the deportation of international prisoners.
Greste will hold a formal press conference later on Thursday.