Australia welcomes journalist's release from Egypt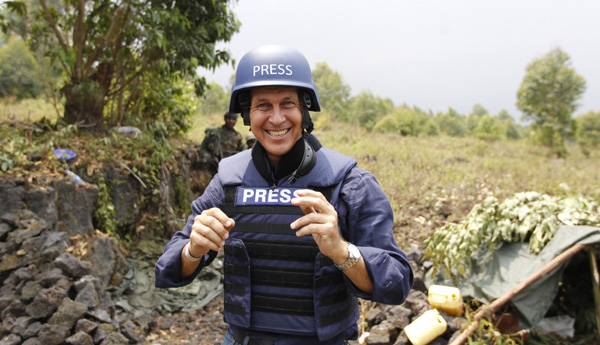 Al Jazeera journalist Peter Greste poses for a photograph in Kibati village, near Goma in the eastern Democratic Republic of Congo in this August 7, 2013 file photo. [Photo/Agencies]
CANBERRA - The Australian federal government has welcomed the release of Peter Greste on Monday after the journalist was finally allowed to return to Australia having spent 400 days in an Egyptian prison.
Greste was jailed in December 2013 alongside two fellow journalists, Canadian Mohamed Fahmy and Egyptian Baher Mohamed, and sentenced to seven years in prison on charges of defaming Egypt and aiding banned Islamists.
However, following international outcry regarding claims the trial was politically motivated and new Egyptian laws enabling foreign prisoners to be deported, Greste was released on Monday.
The Australian journalist, who is employed by Al Jazeera, traveled immediately to Cyprus, where he is currently situated.
Foreign Minister Julie Bishop told reporters in Sydney on Monday that she had spoken to Greste earlier in the day.
"He was immensely relieved and he was desperate to come home to Australia and reunite with his family: his parents Lois and Juris and his brother Michael, who was with him, and his other brother Andrew," Bishop said.
"From my discussion with him, he was very keen to be back on a beach and be lying in the sun in Australia.
"He expressed his heartfelt thanks for the support he's received here in Australia during this ordeal. He thanked the Australian government, the public of Australia and in particular the journalists who had rallied to his cause. He told me that it had sustained him through the very long time he spent in jail.
"He is now in Cyprus. He has been met by Australian consular officials there and will then make his way home to Australia to be with his family and friends once more."
As of yet, there is no word on the future of fellow imprisoned journalists Fahmy and Mohamed.