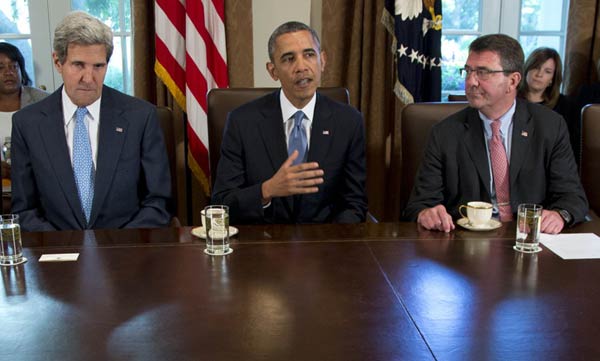 Then-Deputy Defense Secretary Ashton Carter, right, listens as President Barack Obama speaks to members of the media in the Cabinet Room of the White House in Washington, Sept 30, 2013. [Photo/IC]
WASHINGTON - US President Barack Obama's pick for defense secretary is poised to tell Republicans in Congress on Wednesday he might eventually consider reviewing the schedule for withdrawing US troops from Afghanistan, and would push to trim wasteful spending.
Ashton Carter, a former Pentagon No. 2, heads to the Senate for a 9:30 am confirmation hearing that is expected to be far smoother than the one that badly damaged outgoing Defense Secretary Chuck Hagel's political stature two years ago.
But Carter is hardly going to get an easy ride, with key Republicans in the Senate Armed Services Committee sharply critical of Obama's drawdown schedule in Afghanistan as well his limits on US military actions in Iraq, Syria and Ukraine.
"I think he's well qualified. He's going to have to do well. He's going to have to defend the president, but not to a fault," Senator Lindsey Graham, a key committee member, said.
Carter was nominated to become Obama's fourth defense secretary after Hagel resigned under pressure last year, raising questions over whether the 60-year-old technocrat would be able break into Obama's tight-knit inner circle. Hagel remains in the job until his successor is confirmed.
In an opening statement Carter is due to read on Wednesday morning, he promised to give Obama his "most candid strategic advice" about the dangers ahead.
Carter also said in written answers to questions due to be publicly released on Wednesday that he's willing to consider recommending changes to Obama's drawdown plans in Afghanistan next year, should conditions deteriorate.