Washington - The US military launched fresh attacks on Islamic State forces in Iraq, using fighter aircraft and drones to carry out strikes near the Mosul dam, the Pentagon said on Saturday.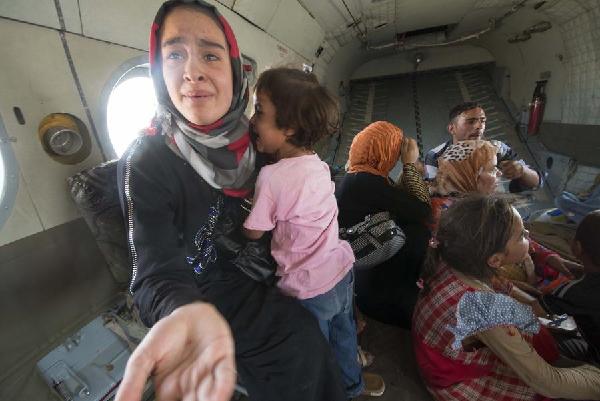 A woman holding a child reacts in a military helicopter after being evacuated by Iraqi forces from Amerli, north of Baghdad, Aug 29, 2014. [Photo/Agencies]
"The strikes destroyed an ISIL armed vehicle, an ISIL fighting position, ISIL weapons, and significantly damaged an ISIL building," a US Defense Department statement said, referring to the IS forces also known as the Islamic State in Iraq and the Levant (ISIL).
"All aircraft exited the strike areas safely."
The statement put out by US Central Command, based in Tampa, Florida, said the strikes were conducted to support Kurdish and Iraqi troops, "as well as to protect critical infrastructure, US personnel and facilities, and support humanitarian efforts."
The statement said that US Central Command so far has conducted a total of 115 air strikes across Iraq.
The United States earlier this week also used aircraft and drones to strike targets in northern Iraq to try to rein in Islamic State militants, who have seized a large swath of territory in the region.
Iraq is struggling to regain significant parts of the country after a lightning militant offensive led by the IS seized second city Mosul in June and swept through the country's Sunni heartland, as security forces fled.
US air strikes on Sunday also targeted the Mosul area, as Iraqi and Kurdish forces endeavor to wrest back some of rebel held territory.
The latest US air support came as Iraq launched a major military operation Saturday to oust the rebels from the town of Amerli, after a two-month-long siege by the jihadists.
Iraqi security forces, thousands of Shiite militiamen and Kurdish peshmerga fighters are all taking part in the operation to lift the jihadist blockade of Amerli, sources said.
Amerli residents face major shortages of food and water, and are in danger both because of their Shiite faith.
The United States has yet to decide if it will expand that military action into the Amerli area, or to Syria.