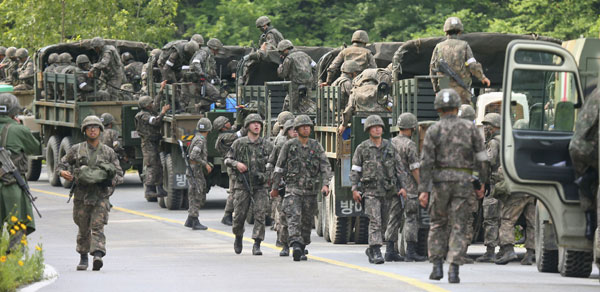 South Korean soldiers get in their military vehicles as they take part in a search and arrest operation near the area of a standoff betweentroops and a conscript soldier who shot and killed five comrades in Goseong June 23, 2014.[Photo/Agencies]
SEOUL - A South Korean Army soldier, who killed five comrades and wounded seven others in a shooting rampage in June 2014, got death penalty from a military court on Tuesday.
The court sentenced the 23-year-old Army sergeant, identified with only his surname Lim, to capital punishment, saying that he committed a "premeditated and cruel" crime by killing unarmed, innocent fellow soldiers.
The ruling said Lim had shown no repentance over his wrongdoings in the past six months while complaining of his being bullied by a group of comrades.
Lim's attorney said the court failed to recognize the group bullying, adding he would appeal to the court.
Lim was indicted in August 2014, two months after he killed five soldiers and injured seven others by detonating a grenade and firing at his fellow soldiers at a general outpost (GOP) of the 22nd Infantry Division in Goseong, a border town some 220 km northeast of Seoul.