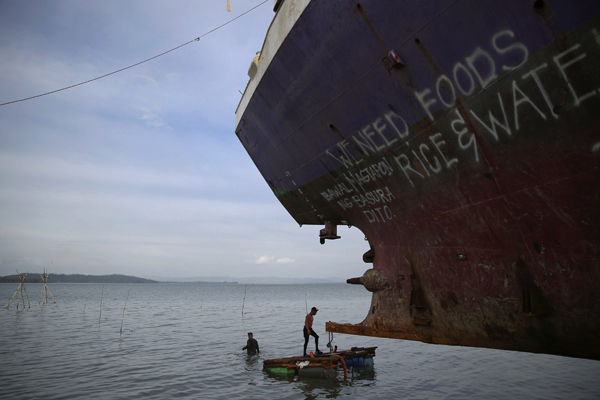 Divers take a part in an effort to recover a ship brought inland by Typhoon Haiyan in Tacloban, January 15, 2015. [Photo/Agencies]
CANBERRA - Australia will donate two military landing craft to the Philippines in an effort to help the country cope with increased relief efforts following Super Typhoon Haiyan.
The pair of former Royal Australian Navy vessels, which had both previously been decommissioned, will undergo a complete refurbishment before being sent to the Philippines in May this year.
The Philippine Navy will then use the vessels to aid humanitarian assistance as the country continues to struggle with the devastation caused by Super Typhoon Haiyan.
The storm, which hit the Philippines in November 2013, left more than 7,350 people dead or missing, with entire towns and villages destroyed.
Meanwhile, the Philippine Navy's lack of resources and funding has meant that relief processes have been slowed dramatically, with the government desperately calling on foreign allies to provide assistance.
Australia has opted to donate its two vessels, which are designed to carry heavy supplies, and could also hand over a further three Australian landing craft which were deemed surplus to requirement in 2012.
Australian Defense Minister Kevin Andrews described the benefits that the two vessels would provide to the Philippines.
"The landing craft will greatly improve the Philippines' ability to respond to natural disasters by enabling heavy equipment and large amounts of aid to be moved to affected areas," Andrews said in a statement on Monday. "I expect the vessels will be refitted and ready for handover in May 2015."