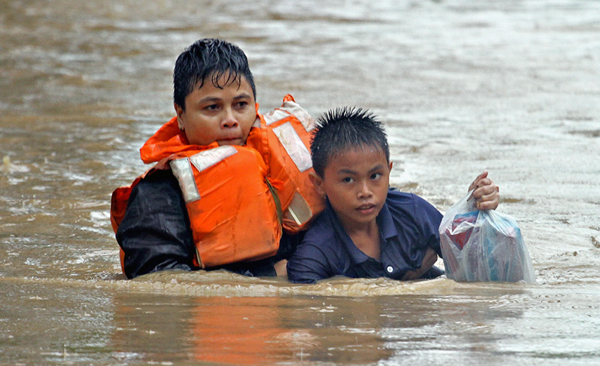 A policewoman helps a boy wade through floodwaters during heavy flooding brought by tropical storm Seniang in Misamis Oriental, Mindanao island in southern Philippines, Dec 29, 2014. Local media reported three people were killed, while more than 10,000 residents were evacuated due to heavy flooding in some parts of Mindanao in southern Philippines. [Photo/Agencies]
MANILA - Tropical storm Jangmi, locally known as Seniang, has claimed at least 35 lives in the central and southern parts of the Philippines, the government disaster relief agency said Wednesday.
Jangmi also left 26 others injured and eight missing, while forcing more than 5,000 families to live in 79 evacuation centers, the National Disaster Risk Reduction and Management Council said in a report issued Wednesday morning.
The tropical storm maintained its strength as it moves closer to the Palawan Island in the western part of the country, packing peak winds of 65 kilometers per hour and gusts of up to 80 kph.
Due to bad weather, 17,656 passengers have been stranded at ports, 14 domestic flights have been canceled, 43 roads and 22 bridges are not passable in Visayas and Mindanao regions. Some provinces in central Philippines are experiencing power or water interruption, the agency said.