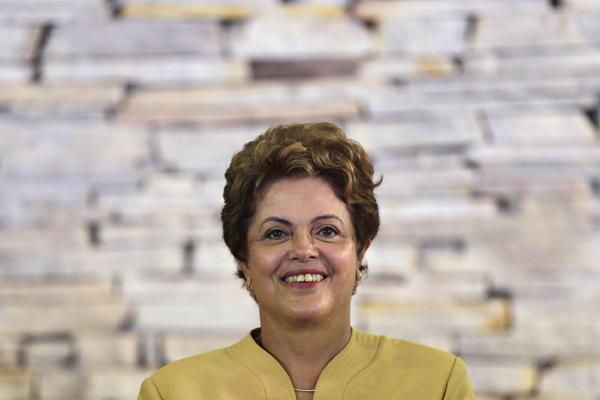 Brazil's President Dilma Rousseff reacts during the first ministerial meeting in Brasilia January 27, 2015. [Photo/Agencies]
RIO DE JANEIRO - Unemployment in Brazil's major metropolitan areas reached a record low of 4.8 percent in 2014, the country's official statistics agency IBGE said Thursday.
Unemployment in six of the largest metropolitan areas in Brazil was 5.4 percent in 2013, said the IBGE.
While Rio de Janeiro registered the sharpest fall of 23.4 percent in unemployment levels from 2013 to 2014, Salvador registered the highest increase of 14.8 percent.
The average unemployed population in the six metropolitan areas was 1.176 million people in 2014, down 10.8 percent from 2013. The average employed population in those areas fell 0.1 percent, totalling 23.08 million.
The average income paid to the Brazilian workers was 2,104 reais ($806) in 2014, up 2.7 percent from 2013. Compared to 2003, average income grew by a third.