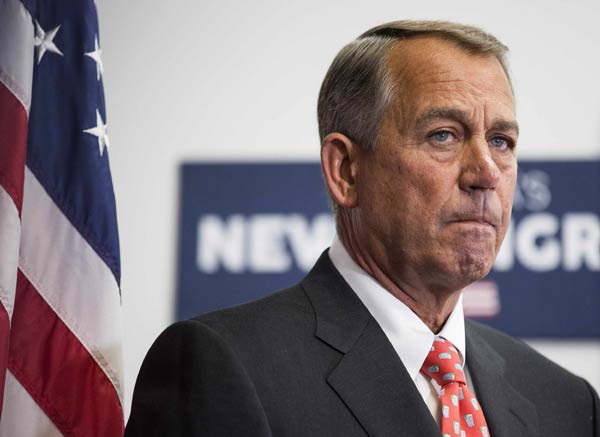 Speaker of the House John Boehner (R-OH) listens as his fellow Republicans speak to the media after a conference meeting with House Republicans on Capitol Hill in Washington January 21, 2015. [Photo/Agencies]
WASHINGTON - A bill that would levy tough new sanctions on Iran if it fails to sign an agreement to curb its nuclear program cleared a US Senate committee on Thursday. But lawmakers are holding off on a full Senate vote to see whether diplomatic negotiations yield a deal.
Republican and Democratic members of the Senate Banking, Housing and Urban Affairs Committee voted 18-4 to pass the bill aimed at ramping up economic pressure on Iran starting in July if it doesn't sign an international deal preventing it from having the capability to develop a nuclear weapon.
Republicans still can move ahead, but that's unlikely without Democratic support. They wouldn't have enough votes to override President Barack Obama, who says he'll veto the legislation because it would derail the diplomatic effort to reach a deal.
The US and other nations negotiating with Tehran have long suspected Iran's nuclear program is secretly aimed at atomic weapons capability. Tehran insists the program is entirely devoted to civilian purposes.
Talks with Tehran have been extended until July, with the goal of reaching a framework for a deal by the end of March. Iran's state-run IRNA news service said Wednesday that Iranian lawmakers have proposed a bill that would scuttle the diplomatic effort if the US imposed new US sanctions.