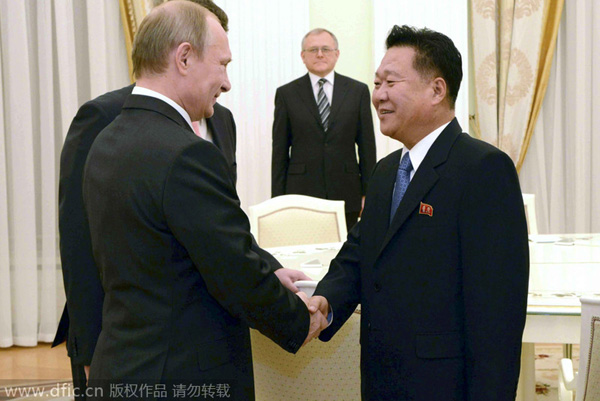 Choe Ryong-hae (R), secretary of the Workers' Party of the DPRK and Russian President Vladimir Putin meet at the Kremlin in Moscow, Russia, Nov 18, 2014. [Photo/IC]
SEOUL - Leader of the Democratic People's Republic of Korea Kim Jong-un has confirmed his attendance at Russia's celebrations in May marking the Soviet victory over Germany in World War II, the Republic of Korea's Yonhap news agency said on Wednesday quoting a Kremlin spokesman.
The trip, if it takes place, would be Kim's first foreign visit since he became top leader of the DPRK in 2011. The DPRK and Russia have been looking to boost ties.
"About 20 state leaders have confirmed their attendance, and the DPRK leader is among them," Yonhap quoted the office of Kremlin spokesman as saying in response to its written question to President Vladimir Putin's spokesman Dmitry Peskov.
Earlier in January, Russian Foreign Minister Sergei Lavrov said the DPRK has sent a positive signal after Putin invited its leader Kim to the victory celebrations.
Russia marks the victory anniversary every year on May 9.